Sharon Stone sued by former nanny over unfair dismissal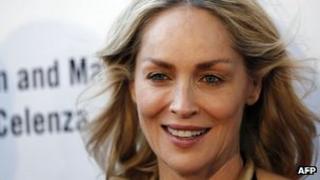 A former nanny employed by Sharon Stone is suing the Basic Instinct star for harassment and unfair dismissal.
Erlinda Elemen claims the actress insulted her Filipino heritage, culture, religion and accent.
The legal action alleges that Ms Elemen, who lived with the family, was fired after Stone discovered she was paid overtime during holidays.
The star's publicist dismissed the claims as "absurd", saying Elemen is seeking an "opportunity to cash in".
The action alleges Elemen, who worked for Stone for more than four years, was repeatedly mocked by Stone for her accent and her religious beliefs, adding that - on one occasion - she was forbade from reading the Bible in Stone's home.
Elemen, who was hired in 2006 to look after Stone's three sons, was promoted to a live-in position in 2008.
She was dismissed last year when Stone discovered her accountants issuing payments for overtime when Elemen worked during the holidays, and when she was travelling with the family.
The former nanny is seeking unspecified damages for harassment, wrongful termination and retaliation claims.
Stone's publicist Paul Bloch called Ms Elemen a "disgruntled former employee", adding that she had sought disability and worker's compensation payments shortly after her original dismissal.
"Now, she is obviously looking for another opportunity to cash in," Bloch wrote, in a statement
"This is a frivolous lawsuit for absurd claims that are made-up and fabricated. Sharon Stone will be completely vindicated in court," a statement reads.
Ms Elemen's spokesman, Eric Rose, responded: "We can't wait to see Ms Stone in court."