Emin prepares for Eurovision performance to millions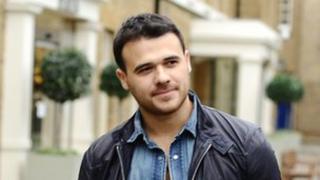 Azerbaijani star, Emin Agalarov, will perform during the Eurovision song contest on Saturday, in front of one of TV's biggest audiences.
Here he talks about his preparation for one of the biggest night's of his life.
The semi-finals are over and all week the city has been heaving - with people, with energy, excitement and anticipation. And for me? OK, some nerves - the full burden of expectation is hitting me now.
After being invited to perform during the final interval all those months ago, I did not know what to expect and then - after preparing for so long - I can't believe the Eurovision finals are nearly here!
I keep being asked what it will feel like to perform for an audience of 300 million, and all I can say is that the number is too staggering to even imagine! Then I am told within 36 hours of the finals over a billion people will have seen it? One seventh of the world's population… But, as ever, I will perform to my very best for the people in the audience in front of me; it's all you can do.
Right now Baku is a reminder that Eurovision is more than one night. Every night something is going on and the city feels totally cosmopolitan - it's a celebration of something huge. The place is alive with different faces, different races, different languages and a lot of very different hair! That's the essence of Eurovision - bringing all these different people together, but to see all this diversity in my hometown is unbelievable.
At night Baku is ablaze with amazing lights - not least from the Eurovision venue, The Crystal Hall, which is living up to its name and shining into the night sky like a beacon by the Caspian Sea. It is truly magical and adds to that burden of expectation I mentioned - to live up to such an amazing venue!
As for the entries, my hopes are for Sabina, who has the daunting task of representing Azerbaijan as the host nation. I am sure she feels similar pressure to me, but she has a strong song and a great chance in the contest. It is always impossible to predict and throws up complete surprises - like Azerbaijan winning last year!
Among the favourites for the contest are my friend Engelbert Humperdink, my other friends The Babushkas and my hopefully soon-to-be-friend, the Swedish entry 'Euphoria' by Loreen, which has a really strong Euro dance sound.
For energy, they will have to work hard to beat those Russian Babushkas though - they are whizzing around like they have extra-life batteries, seriously! I can't imagine what this experience must be like for them, but like everyone here, they are making new friends all the time and they are just as excited as their younger rivals...such as Engelbert.