Elton John cancels Vegas shows on doctors' orders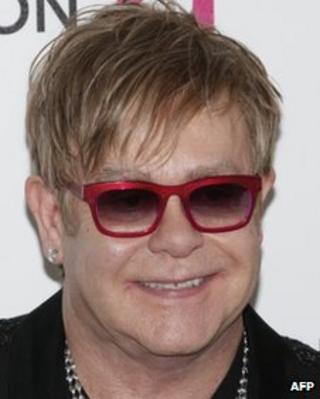 Sir Elton John has pulled out of three performances of his current Las Vegas residency, after being taken to hospital with a respiratory infection.
The singer was admitted to Los Angeles' Cedars-Sinai Medical Centre on Wednesday, but released the same day.
Doctors have advised the 65-year-old star against working while he completes a course of antibiotics.
The remaining 11 concerts of his Million Dollar Piano residency at Caesars Palace take place in October.
"Elton developed a serious respiratory infection last weekend while performing at The Colosseum on Sunday, May 20," said a statement by his publicist, Fran Curtis.
"This week the condition worsened, even with medication and rest, resulting in Elton being hospitalised."
The statement added that the singer underwent "extensive tests" and was recommended to take "complete rest" for "approximately seven days... to cure his respiratory infection and prevent any damage".
Sir Elton added his own apologies: "All I can say to the fans is 'sorry I can't be with you'."
"I love performing the show and I will be thrilled when we return to the Colosseum in October to complete the 11 concerts."
Sir Elton was previously forced to cancel two concerts in February, after he came down with food poisoning.
Gibb dedication
The singer, whose hits include Your Song and Candle in the Wind, began his three-year headlining stint in Las Vegas in September last year.
Earlier this week, he dedicated his track Don't Let the Sun Go Down on Me to Bee Gees singer Robin Gibb, who died at the weekend.
"The Bee Gees were part of my life when I was growing up; they were a huge influence on me as a songwriter," he told the audience. "Travel well Robin - you were amazing. God bless you."
The singer is expected to perform at The Queen's Diamond Jubilee concert at Buckingham Palace on 4 June, before embarking on a tour of Europe in June and July.
He returns to the United States and Canada for a series of concerts in September, before completing the Las Vegas residency.