Samuel Beckett's All That Fall set for West End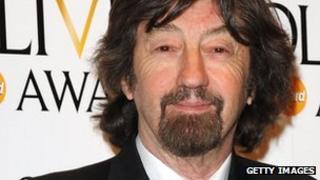 A radio play by Samuel Beckett that has never been performed professionally on stage in London is to be presented at the West End's smallest theatre.
Sir Trevor Nunn will direct Dame Eileen Atkins and Michael Gambon in the one-act play All That Fall at the 70-seat Jermyn Street Theatre.
First broadcast in 1957, it tells of an elderly woman's journey to a railway station to meet her blind husband.
The production will run from 9 October to 3 November.
Dame Eileen will play the unwieldy Mrs Rooney, who encounters a number of different people while on her way to guide her husband home from the office.
"For many years I have been hoping to present Samuel Beckett's extraordinary radio play All That Fall on stage," Sir Trevor said.
"The Jermyn Street Theatre is the perfect intimate space for this unique project, as I attempt to recreate the studio circumstances for which the play was written.
"My hope is that audiences won't try to find and read the play beforehand, but come to it as if it is a new work about which they know almost nothing. The impact of this play will then be at its most devastating."