Harry Hill to be David Shrigley art tour guide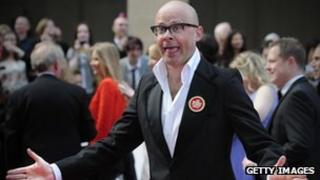 Comedian Harry Hill is to act as a tour guide at a new art exhibition by David Shrigley in Manchester later this year.
Hill will lead tours of Shrigley's humorous and surreal cartoons and sculptures at the Cornerhouse gallery.
The TV star said Shrigley, who has just had his first major London show at the Hayward gallery, was "at once funny but profound and subversive".
"I will be conducting a tour of his new stuff and trying to be funnier than him," Hill added. "No mean feat."
The tours will run from 1 December but it is not yet known how many there will be, nor how long they will last.
The TV Burp presenter said: "I like the home-made aesthetic. He does what a lot of jokes do, which is spring surprises, at once funny but profound and subversive.
"He's a true outsider who has somehow snuck under the wire, which is how I feel about my own shtick."
Shrigley is known for using cartoon-like images to convey funny, thought-provoking and often unsettling messages.
When his Hayward show opened, The Guardian newspaper described him as "one of the cleverest, most amusing conceptual artists of our time".
The Independent on Sunday , however, declared that he "never really gets away from being a cartoonist" and found the show "rather annoying".
Cornerhouse will show Shrigley's drawings, paintings and sculptures, and the artist will direct local actors in a series of "unique and often participatory performance-based works".
The exhibition runs for three months from 6 October.
Both Shrigley and Hill contributed pieces to an exhibition titled Unrealised Potential at the Cornerhouse in 2010. That exhibition was curated by Mike Chavez-Dawson, who is also overseeing the Shrigley solo show.