Rumer: 'I don't want to be limited by my experience'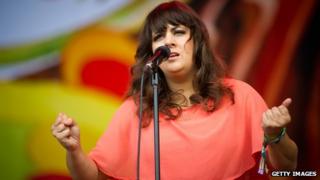 Despite being well-known on the live circuit for many years, singer Rumer did not break into the mainstream until her debut album Seasons Of My Soul was released in 2010.
Lush, melancholy ballads like Am I Forgiven and Take Me As I Am propelled the album to number three in the UK charts, and earned the singer two Brit Award nominations.
But Rumer, whose real name is Sarah Joyce, is taking a different direction with Boys Don't Cry, her new album, which is made up entirely of cover versions.
"What I'm interested in is human emotion, and exploration of that," she says, dismissing the criticism often faced by cover albums.
"I don't want to be limited by my own experience. I can learn a lot more by going into other people's worlds, very much like an actor would play a role."
Many of the songs featured on the new collection are 1970's soul classics originally performed by the likes of Isaac Hayes and Bob Marley.
Joyce was initially sceptical about some of the song choices and questioned how appropriate they would be.
"With a song like Soulsville, there was a part of me that was thinking 'can I sing this if I'm not black? This is about black people, is that okay?' But really in the folk tradition, a narrative is a narrative," she says.
"The message is bigger than the messenger. So a narrator should be able to tell a story - whatever culture they are, whatever race, whatever gender."
Childhood lies
Rumer was born to a British family in an expatriate community in Pakistan.
"Culturally, I've got a duality with my identity," she says.
"I was born in an American colony. So what was really weird was that there was this village with American schools and there was an ex-Rockette who used to do a dance class - so it was quite American."
As a child, she knew she was different from her six siblings, but did not find out until she was 11 years old that they did not share the same father.
"When I was a little girl my brothers and sisters were all blonde-haired and blue-eyed and I was this little brown thing. I used to point at Pakistani children and say 'this baby's like me' and my mum used to go 'shhh'."
Joyce later found out her biological father was the Pakistani cook her family employed when she was a child.
"I knew there was something up, but no-one was telling me what it was. And then eventually I was told when I was 11 years old, but I spent my whole childhood knowing that people were lying to me."
"Finding out your father's not your father, and your father's the cook... I was more Pakistani than I thought. But weirdly enough you don't get the culture. You feel it in your blood but you don't have the culture, and it's a shame."
Joyce says she has noticed similarities between her childhood experiences and working in the music industry.
"When I'm lied to I can't handle it. And unfortunately I'm in a business now where that's what they do every single day. They sit in rooms having meetings about you and don't tell you things. And you can sense that you're not being told something, but you don't know what it is.
"This record industry has mirrored so many childhood traumas. That's been one of the difficult things, trying to deal with that."
'Desperately misunderstood'
As a child, Joyce had to deal with more problems than most of her classmates. Her mother was diagnosed with a mental illness, and would sometimes forget to collect her daughter from school.
"[It was difficult] losing control. Having a mother who, because she's not feeling well, forgets to pick you up. And you're in the playground in the dark with the teacher, and that's traumatising if you're a little kid."
Such experiences made Rumer feel vulnerable and she longed to be in charge of her own life.
But as a successful musician, Rumer has reluctantly had to relinquish control of some aspects of her career.
"I have to rely on the manager or the record company to help me, I have no control over the schedule," she says.
"So if I turn up somewhere and there's no food, I can't eat. I'm stuck. It puts you in that child state. And I didn't realise how much I lived my whole life controlling things so that nobody would ever be able to make me vulnerable again."
"You end up in a situation like this where you've got no control. And the impotence, it breeds anger and rage, and I had to deal with that as well.
When asked whether she would consider writing an autobiography, she says: "I'd like to write a book because I'd like to explain all that. Some people just think I'm being a hysterical woman, but there's more to it than that."
"I feel very much like I want to tell that story because I feel desperately misunderstood a lot of the time."
Rumer was speaking to BBC Radio 4's Front Row programme. Her new album Boys Don't Cry is out now.