Gene Hunt star Philip Glenister to make National debut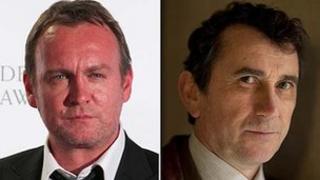 Life on Mars' Philip Glenister is to make his National Theatre debut in a play about two real-life Labour whips.
The actor, best known for his Gene Hunt role in Mars and sequel Ashes to Ashes, will appear with ex-EastEnder Phil Daniels in This House later this year.
Glenister will play Wakefield MP Walter Harrison, while Daniels will portray south London MP Bob Mellish.
The pair were renowned for the tactics they employed to keep Harold Wilson's minority 1974 government in power.
Written by James Graham, This House will open in the National's Cottesloe theatre on 18 September and run in repertoire until 1 December.
The production sees Glenister follow in the footsteps of his actor brother Robert, who has performed at the National in such plays as Blue Remembered Hills and Brighton Beach Memoirs.