Chris Evans misses radio show as wife goes into labour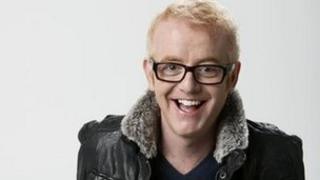 Chris Evans missed his Radio 2 Breakfast show on Friday morning after his wife went into labour with the couple's second child.
The star's One Show co-host Alex Jones stepped into the breach, broadcasting live from the Hay Literary Festival.
"I'm here, left holding the other baby, so to speak," joked the presenter at the start of the show.
Evans later phoned in to the programme to announce the birth of Eli Alfred Michael Evans, who arrived at 4:52 BST.
"Once upon a time, there was a silly radio DJ who went to Wales when his wife was four days overdue with their second child," he said, "thinking both mummy and baby might hold on until he returned.
"But of course he was completely wrong, as usual, and two hours after he arrived on Thursday evening, he beat a hasty retreat."
With the baby crying in the background, he told Jones that Natasha had a surprisingly brief 52-minute labour.
"It was a two-push birth. The baby popped out. We called the paediatrician, who only lives around the corner from the hospital, and he was too late for the birth."
Evans, 46, already has a son Noah, three, with Natasha and a daughter Jade - now in her mid-20s - from an earlier relationship.
The couple met when they were partners in a celebrity golf tournament and married in 2007.
The Radio 2 Breakfast show is the most popular in the UK, with a weekly audience of 9.2 million.
It recently earned Evans a Sony award for Music Radio Personality of the Year.
'So relieved'
Speaking to BBC News on Friday afternoon, Jones said she had only learned she would be presenting the breakfast show eight hours before its 0600BST start.
"Helen, who's one of the producers at Radio 2 rang me and said, 'Alex, Tash has gone into labour. Don't worry, it'll be fine,' and the signal cut out. That was it!"
The programme was being presented from Hay as the culmination of a story-writing competition for children.
Isobel Harwood, 12, and seven-year-old Isobel Murray took the top prizes in the 500 Words short story contest, which was judged by Dame Jacqueline Wilson and David Walliams, amongst others.
The live nature of the programme presented further problems for Jones.
"Everything was being controlled from the studio in London," she explained. "So I didn't know whether the mic was live and I couldn't see anybody. And it was an actual event, so not only are you hosting a breakfast show, you're also entertaining a crowd of people.
"It couldn't have been any more complex, really. Chris Evans does pick his moments."
"He sounded really emotional on the phone," she added, "but I'm so relieved he's back for The One Show tonight."