George Lucas plans Lucasfilm handover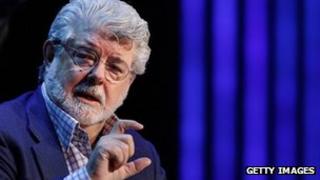 Star Wars director George Lucas has named his successor at his Lucasfilm studio as he prepares to stand down.
Lucas, 68, launched the studio in 1971. He will hand over to Kathleen Kennedy, who produced films including Jurassic Park, The Sixth Sense and War Horse.
Lucas said: "As I shift my focus into other directions, I wanted to make sure it was in the hands of someone equipped to carry my vision into the future."
Kennedy had "great creative passion and proven leadership abilities", he said.
Lucas opened the studio as a young film-maker and its first release was the science fiction film THX 1138.
He made his name with American Graffiti in 1973 before Star Wars became the highest-earning film of all time four years later.
Kennedy described Lucas as "a true visionary", adding: "I've seen him build Lucasfilm from a small rebel unit in Northern California to an international fully integrated entertainment company.
"As George moves towards retirement I am honoured that he trusts me with taking care of the beloved film franchises."
Lucas may retire from the company, but he is not likely to stop making films. In recent months, he has told reporters he plans to move away from making big-budget movies to focus on smaller, art-house films.