Beatles' long reign at number one in singles chart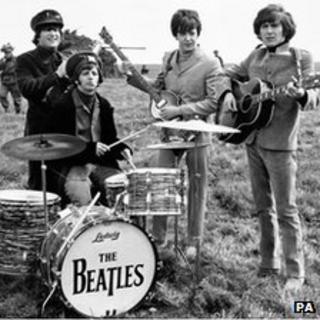 The Beatles have been declared the biggest selling singles act under the Queen's 60-year reign.
The Fab Four, who split more than 40 years ago, had 17 number ones during their eight-year chart domination.
They held off artists such as runner-up Elvis Presley, Sir Cliff Richard and Madonna.
BBC Radio 2 is to broadcast a countdown of the 60 biggest selling artists since the singles chart began in 1952 - the year the Queen took the throne.
Elvis has continued to have strong sales over the past 10 years thanks to a reissue campaign with tracks such as A Little Less Conversation.
Sir Cliff has had 124 top 40 hits and 14 number ones in the list compiled by the Official Charts Company.
And Madonna has made the top 40 more than 60 times.
Rihanna, who only made her debut chart position in 2005, is in 10th place, yet the Rolling Stones only reached number 13.
Although Mick Jagger's wrinkly rockers have continued to release singles, they have failed to make it to the top 10 since 1981.
Sir Paul McCartney (11th) is listed twice for his Beatles years and his solo career as is George Michael (21st) for his own hits and as a member of Wham! (43rd).
Tony Blackburn will count down the chart from 14:00-17:00 BST on Radio 2.
He said: "This chart offers a fascinating look at the past 60 years in music and shows the impact that modern stars like Rihanna and Katy Perry have had.
"The list is really varied and will provide something for everyone. There are definitely a few surprises in store - Coldplay being at 60 for one!"