The Wire cast reunite for Funny Or Die musical parody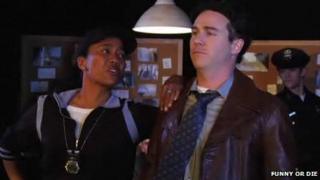 Cast members from The Wire have reunited for a musical parody of the acclaimed TV crime drama.
Sonja Sohn, Felicia Pearson, Andre Royo and Larry Gillard Jr. have reprised their roles in the short film , which includes some offensive language.
Michael K. Williams, who played gunman Omar, is seen smiling and dancing in the clip on the Funny or Die website.
Other highlights include Royo's character Bubbles being urged to stop using drugs by a singing dance troupe.
A famous scene where drug dealer D'Angelo Barksdale uses chess pieces to explain Baltimore's drug hierarchy has also been sent up.
Funny Or Die was founded by US comedy star Will Ferrell.
The cult site features exclusive entertainment content and often reunites cast members of popular American TV shows.
Last month, the cast of The West Wing appeared together to promote an exercise campaign urging Americans to walk more often.
The Wire is one of the most critically-acclaimed television programmes of all time.
The series portrayed life in a number of industries in Baltimore, including the city's school system, drug trade, police department, political structure and media scene.
It ran for five seasons between 2002 and 2008 on subscription channel HBO in America. It was later broadcast on BBC Two in the UK.
The series helped launch the careers of Dominic West, who last week won a BAFTA for his performance in Fred West drama Appropriate Adult, and Idris Elba - star of BBC One's Luther.