Prometheus conquers UK and Ireland box office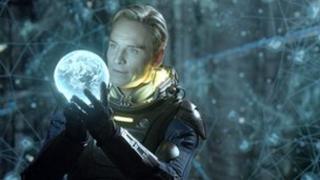 Sir Ridley Scott's Prometheus, a spin-off of his 1979 breakthrough Alien, has seen off rivals at the top of the UK and Irish box office.
The sci-fi movie, about a futuristic expedition to track down humankind's forefathers on a faraway planet, took £6.2m at the weekend.
Snow White and the Huntsman, a dark re-telling of the fairytale, starring Kristen Stewart, was second with £3.6m.
Last week's number one, Men In Black 3, dropped to third place with £3m.
Marvel Avengers Assemble, the most successful film of the year so far with total UK and Ireland earnings of £48m, was at number four.
Sacha Baron Cohen's latest comedy The Dictator slipped to number five. New entries included Top Cat - The Movie at seven and Ken Loach's The Angels' Share at number nine.