Shirley MacLaine collects AFI lifetime honour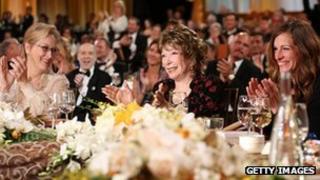 Oscar-winning actress Shirley MacLaine has been honoured with a lifetime achievement prize by the American Film Institute (AFI) in Los Angeles.
The 78-year-old was presented with her award by Meryl Streep at the star-studded ceremony.
The honour is given to those "whose talent has in a fundamental way advanced the film art".
The actress has starred in more than 50 films including her Oscar-winning turn in Terms of Endearment.
She has been nominated for a further five Academy Awards, with other credits including Steel Magnolias, The Apartment and Postcards From The Edge.
More recently, she starred in Bewitched and ensemble romantic comedy Valentine's Day and is due to appear in the forthcoming series of ITV1's Downton Abbey.
A number of fellow actors paid tribute to MacLaine at the reception, including John Travolta, Jack Nicholson and Carrie Fisher.
Friends and colleagues also poked fun at the actress' belief of reincarnation.
Jack Black presented a film of himself congratulating MacLaine at award ceremonies from prehistoric times to the Elizabethan era to US colonial days.
Carrie Fisher also described MacLaine as "some lucky future person's past life", while Nicholson said MacLaine was the only person outside the clergy promising them eternal life.
Ahead of the ceremony, the actress told reporters she had always believed her career was one of fate.
"It was never any doubt in my mind that I would be in this business - I felt that it was aligned with my destiny," she said.
Other stars to attend the gala included Julia Roberts, Jennifer Aniston, Morgan Freeman and MacLaine's younger brother Warren Beatty, who himself received the honour in 2008.
Freeman, Michael Douglas, Al Pacino, George Lucas and Sean Connery are among the others to have previously been awarded the prize.