Rowan Atkinson to star in Simon Gray play in West End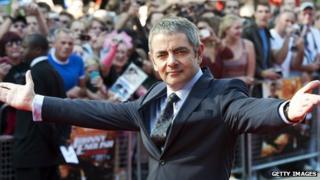 Rowan Atkinson is to act in his first play for almost 25 years, appearing as a teacher in a revival of Simon Gray's 1981 comic drama Quartermaine's Terms.
The story, set in the 1960s, follows the lives of seven teachers in an English language school for foreigners.
The new production will be directed by Sir Richard Eyre and be seen in Brighton and Bath next January.
It will then begin a 12-week run at Wyndham's Theatre in London. Atkinson was last on stage in Oliver! in 2009.
The comedian told the BBC last year that he rediscovered his love for theatre after appearing as Fagin in Sir Cameron Mackintosh's musical.
He said: "I love theatre, I hadn't done it for 20 years before I did Fagin and I was surprised how comfortable I felt on stage."
The role earned him an Olivier Award nomination for best actor in a musical.
Atkinson made his debut in the West End in 1981 in Rowan Atkinson In Revue and later became well-known for television roles in Mr Bean and Blackadder.
The character of St John Quartermaine is described as a pleasant but hopeless teacher.
His future becomes uncertain when a new principal is appointed at his school.
The new production will be designed by Tim Hatley, who has previously won two Olivier Awards and two Tony Awards for his work in stage design.
Its director Sir Richard Eyre was artistic director of the National Theatre from 1988-97.
Simon Gray's other plays include Wise Child, Otherwise Engaged, The Common Pursuit and Butley.
Also announced: Ken Stott, Anna Friel and Samuel West will appear in Chekhov's Uncle Vanya, directed by Lindsay Posner, at the Vaudeville Theatre on 2 November with previews from 24 October. Adapted by Christopher Hampton, the new production casts Stott in the lead role, with Friel as Yelena and West as Astrov.