Profile: Kate Winslet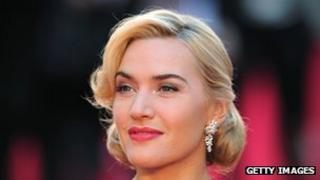 Oscar-winning actress Kate Winslet has been made a CBE in the Queen's birthday honours list.
Winslet, 36, is recognised for her film career, which took off in 1993 when she won her first big screen role in Peter Jackson's Heavenly Creatures.
Based on a real-life murder case in 1950s New Zealand, the film saw Winslet play Juliet Hulme, an English teenager whose intense relationship with a schoolfriend took a disturbing turn.
Speaking about her first experience on the film set, Winslet said: "With Heavenly Creatures, all I knew I had to do was completely become that person. In a way it was quite nice doing (the film) and not knowing a bloody thing."
Naive or not, her performance was garlanded by both Empire magazine and the London Film Critics' Circle.
Winslet was soon hired to star in Ang Lee's Sense and Sensibility, a Jane Austen adaptation that proved to be a financial and critical success.
The actress scooped her first Bafta for her performance as the flighty Marianne Dashwood, which also saw her nominated for the best supporting actress Oscar.
However, it was playing the impetuous Rose Dawson in 1997's Titanic that finally made the Reading-born actress an international star.
The film had a notoriously arduous production, with water-logged sets and technical problems that saw the planned 138-day shoot over-run by two weeks.
"Nothing prepared me for the scenes we are shooting," wrote Winslet in her diary (later published in Australian Vogue) in January 1997.
"I vow I will look much more carefully at script directions in future! 'Jack and Rose run through flooded corridor' has turned into the most arduous three days of my life. Scared. Terrified."
Contrary to popular belief, the water used on set was not heated, Winslet divulged.
"It is like swimming in the coldest winter in the history of Scottish winters," she wrote. "I am completely freezing."
Despite dire predictions, Titanic became a massive box-office hit - and went on to win 11 Oscars. Winslet was again nominated, this time for best actress.
But the success was overshadowed by the death of Winslet's partner of nearly five years - actor and writer Stephen Tredre - from bone cancer, shortly before the film's release.
The actress missed the Los Angeles premiere of Titanic to attend his funeral, a decision which imbued her with a distrust of Hollywood.
"Someone I had spent four and a half years of my life with had just died," she told The Guardian in 1999, "and (the film studio) would be having conversations with me, saying things like, 'Look, we understand, this must be a very hard time' and then they'd go on to say, 'but don't you think Stephen would have wanted it?'"
"I was pretty alarmed by that."
Press damages
She met her first husband, Jim Threapleton, on the set of Hideous Kinky, a film about a restless single mother who flees to Morocco.
They wed in 1998 and had a child, Mia Honey, together, though their marriage ended in divorce three years later.
But her career was in the ascendancy - in 2003, she was again recognised with an Academy award nomination for her supporting role in biopic Iris.
The same year, she married the theatre and film director Sam Mendes and Winslet on the island of Anguilla in the Caribbean.
Their son, Joe Alfie Winslet Mendes, was born that December in New York.
Her fourth Oscar nomination came in 2005 for psychological drama Eternal Sunshine of the Spotless Mind - and two years later, she was nominated again for Little Children, but a win still evaded her.
Having had roles in TV shows such as Casualty before she hit the big screen, the actress returned to television to star in an episode of Ricky Gervais's comedy series Extras in 2005.
Winslet, who played a fictional, profane version of herself, earned an Emmy nomination for outstanding guest performance in a comedy series.
But Winslet's acting ability has not been the only focus of press attention over the years.
In 2007, she accepted an undisclosed settlement from Grazia magazine over allegations that she had visited a diet doctor.
And in 2009, the actress successfully sued the Daily Mail newspaper over claims she lied about her exercise regime. She later accepted £25,000 in damages.
The same year, she finally broke her Oscar duck, winning best actress for her role in The Reader, capping a number of prizes leading up to the Oscars.
'Opened the doors'
"I get very emotional about these things," said Winslet at the time. "I'm too emotional to lose, and I'm too emotional to win."
She also won her second Bafta for her role as Hanna in The Reader, a guard at Auschwitz who was accused of atrocities at the camp.
Winslet was also recognised at the 2009 Golden Globes, where she secured a double triumph for The Reader and Revolutionary Road.
The following year, Winslet and Mendes split up.
In a statement, the couple said the separation was "entirely amicable and by mutual agreement".
Meanwhile, her career continued to go from strength to strength - she picked up an Emmy award last year for her role in Mildred Pierce, a drama about a woman who bakes her way out of poverty.
A month earlier, she found herself in the midst of a real-life drama, when she rescued Sir Richard Branson's mother after a fire broke out on Branson's luxury home in the Caribbean.
This year, she celebrated the 3D release of Titanic, acknowledging it had "opened the doors to lots of wonderful opportunities".
Still the film she is best known for, she said: "It's never left me... Titanic is part of my DNA."
On her CBE, Winslet said in a statement: "I am both surprised and honoured to stand alongside so many men and women who have achieved great things for our country.
"And I feel deeply proud to receive this, as a part of an ever expanding community of British actors and film makers who are fortunate enough to be able to contribute to an international industry.
"This makes me very proud to be a Brit!"