Rolf Harris honoured in Queen's list in Australia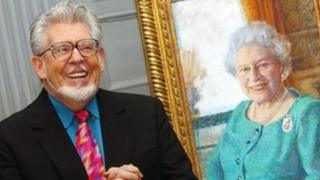 Rolf Harris has been awarded one of Australia's highest honours as part of the Queen's Birthday Honours list.
The artist and TV presenter has been made an Officer of the Order of Australia - the equivalent of the UK's OBE.
He is being honoured for his distinguished service to the performing and visual arts, his charity work and promoting Australian culture.
Australian born Harris, who lives in London, called it a "huge honour."
The entertainer took part in last week's Diamond Jubilee celebrations, presenting part of the concert outside Buckingham Palace dressed in a shirt he had painted with the Union Jack.
He has already been honoured in the UK three times, first as a Member of the British Empire in 1968 (MBE), then an OBE in 1977 and in 2006 he was advanced to a CBE.
He told Australian newspapers he was "thrilled to bits" as the Queen established the honour herself in 1975.
"Although I love the UK, I still think of myself as an Australian," he said. "My Mum and Dad would have been bursting with pride if they were here today. This year has been an amazing year for me and it's just getting better and better."
Harris is one of 762 Australians included in this year's Queen's Birthday honours list.
Novelist Peter Carey, best known for True History Of The Kelly Gang, was also appointed an Officer of the Order of Australia.
He is being recognised for his distinguished service to literature and promoting the Australian identity, as a teacher and mentor to emerging writers.
Professor Stephen Hopper, the Director of the Royal Botanic Gardens in Kew, has been made a Companion in the General Division.
He is being honoured as a global science leader in the field of plant conservation biology, and for delivering world class research programmes on endangered species and ecosystems.
The Queen's Birthday Honours list will be announced in the UK this weekend.