David Arquette files for divorce from Courteney Cox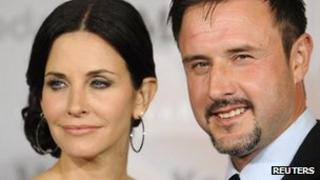 Actor David Arquette has filed for divorce from Friends actress Courteney Cox after 13 years of marriage.
The couple, who have a daughter, announced a trial separation in October 2010 but remained on amicable terms, saying they remained "best friends".
The pair reunited on screen recently in Scream 4 and Cox's US sitcom, Cougar Town, which Arquette produces.
Court papers cited irreconcilable differences, with an official separation date of 31 December 2011.
Arquette is seeking joint custody of their seven-year-old daughter, Coco.
The pair met on the set of the film Scream in 1996 and married three years later.
After their initial separation, they released a joint statement saying: "We remain best friends and responsible parents to our daughter and we still love each other deeply."
In a recent interview, Cox said the couple's current relationship was better "than it would be if we lived together."
The actress was often seen in the audience supporting Arquette when he competed on Dancing with the Stars last autumn.