Ronnie Barker rewrote 'boring' book of Lear limericks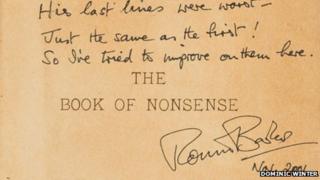 A book of Edward Lear's limericks that comedian Ronnie Barker changed to make funnier is expected to sell for around £1,500 at auction.
The Two Ronnies star wrote his own versions of the poems alongside Lear's in The Book of Nonsense, first published in 1846.
Barker was apparently disappointed by the poet's use of the same word at the end of the first and last lines.
He wrote an introductory limerick calling the verses "boring and drear".
It was signed and dated November 2001, four years before his death, aged 76.
It reads "There was an old fossil named Lear, Who's verses were boring and drear. His last lines were worst - just the same as the first! So I've tried to improve on them here."
The nonsense verse known as the limerick was invented by 19th Century poet, famous for his Owl and the Pussycat poem.
Nearly all of the book's 112 illustrated limericks had been annotated by Barker, with most having Lear's last line crossed out and replaced.
Barker's skits with partner Ronnie Corbett, featuring jokes based on puns and play on words, secured his status as a British comedy legend.
Among his most celebrated was the fork handles (four candles) sketch, in which Corbett plays a baffled shopkeeper exasperated by Barker's ambiguous shopping list.
Other improvements on Lear's work include him changing the end of "There was an Old Man of the Dee, who was sadly annoyed by a flea; When he said 'I will scratch it', they gave him a hatchet, which grieved that Old Man of the Dee."
Barker altered the final line to read, "and cut his leg off at the knee."
The book is being sold at the Dominic Winter Auctioneers, South Cerney, Gloucestershire, on 21 June.
The auctioneer's website describe it as, "an extraordinary and unique item, associating two British masters of comic language and wordplay."
"The pen used by Barker is the same throughout," it continues. "Suggesting that this was a minor diversion carried out in a short space of time, rather than a serious project to come up with the best possible final line."
The website also proposes that by the end of the book, the Porridge star had grown tired of the activity.
"There was a Young Lady of Clare, who was sadly pursued by a bear, when she found she was tired, she abruptly expired, And so do these rhymes - in despair!"'