London 2012: Opera recalls Olympic hero Emil Zatopek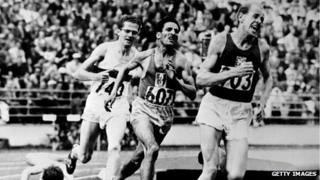 As the Olympic Games draw near, an opera based on the life of Czech long-distance runner Emil Zatopek, written by one of the UK's most acclaimed young composers, has received its premiere in Liverpool.
While writing the mini-opera about the Zatopek, who gained legendary status after winning the 5,000m, 10,000m and marathon at the 1952 Olympics, composer Emily Howard and librettist Selma Dimitrijevic did all the rigorous research you would expect.
They went to Prague to get an insight into his life from Zatopek's widow Dana, spoke to his race-track rivals, including Britain's Sir Christopher Chataway, and immersed themselves in footage and books.
And then they went beyond the normal call of artistic duty and decided to take up running the 5,000m themselves.
"We did," says Howard with a laugh. "I did design a 5km [route] around where I live, and I did run it. Actually it's really addictive. I did that religiously over the period I was writing."
As well as getting some insight into the mindset of an athlete and gaining a sense of the rhythms of the long distance run, pounding the streets got the creative juices flowing, says Howard.
"If you're trying to compose something, I often find that if you just sit there, you actually can't get anywhere." Relaxing the brain can break through writer's block, she explains.
"If you go away and do something like running, you will find the solution, weirdly."
Born in Liverpool to musician parents, the 33-year-old says of her first composition: "It is a bit embarrassing because I did call it Howard Opus 1. I think I was about six or seven."
A junior chess champion as well as budding composer, she went on to study mathematics and computing at Oxford University and another passion, science, often feeds her work.
It seems her industrial-scale intellect could have led her down any number of paths but she chose music and made her name with a composition for Liverpool's European Capital of Culture programme in 2008.
The same year, she received a £45,000 award from the Paul Hamlyn Foundation for promising composers.
After her work was showcased at the Wien Modern festival in Vienna last November, the Daily Telegraph raved that she was "a feisty younger figure you may not have heard of but will before long, because she's a force to be reckoned with".
The 12-minute Zatopek!, which was staged at the Epstein Theatre on Friday before being broadcast on BBC Radio 3 on Saturday, is her first operatic work and recreates the 5,000m race at the 1952 Helsinki games.
The athlete became a hero around the world after obliterating his opponents with apparent ease.
His achievements seemed even more unlikely given his ungainly running style and that, while his competitors were fiercely focused on the race, he would smile and joke along the way.
"As everyone said, he was thinking so much more than everyone," says Howard. "There could be loads of weird and wonderful things going on in his head so we've tried to make it a bit more like a fantasy as well - crazy things going on in his head rather than just a race."
But his near-universal popularity did pose one problem. "Operas are often about the most terrible characters," says Howard. "So we were thinking, where's the drama in this?"
Sport and music do not often mix - usually for good reason. But Howard believes there are parallels between athletes and artists.
'A real vision'
"I'm very interested in the mind and I think there's something amazing in the will to succeed and the energy you have to put into being brilliant at anything," she says.
"Hours of training and a real vision. I think it's the same for composers and artists."
Zatopek! was one of 20 new pieces of music commissioned by the PRS For Music Foundation for the Cultural Olympiad.
After that, Howard's orchestral work Calculus Of The Nervous System will receive its UK premiere at the BBC Proms in August, performed by the City of Birmingham Symphony Orchestra.
That is based on an idea by Ada Lovelace, the daughter of poet Lord Byron and a mathematician who helped set out the earliest computing theories in the 1840s.
"Ada wanted to create a mathematical model of how the brain would give rise to thought and nerves to feelings," says Howard. "Which is quite something, isn't it?
"I read some medical books on the way the neural networks in the brain are laid out. So I thought of the piece a bit like a neural network. The music doesn't work in a very traditional sense, but then it's not supposed to."
"It's as though thoughts are coming to you, a bit like with humans. You're thinking about something and suddenly your mind travels to a seemingly unrelated memory from long ago. I've tried to design the music a bit like that."