Gatz: Eight-hour Gatsby play opens in London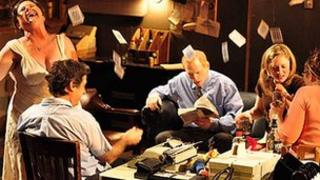 The full text of F Scott Fitzgerald's Great Gatsby has been performed in London, in an eight-hour show at the Noel Coward Theatre.
Critics attended the press preview of Gatz on Wednesday, with the audience taking their seats at 14:30 BST.
The play has transferred from New York, where it was called "a work of singular imagination and intelligence" by the New York Times .
It runs for a month, as part of the London 2012 Festival.
Some of the famous faces attending Wednesday's performance included Sherlock star Benedict Cumberbatch, actress Juliet Stevenson and playwright Sir David Hare and his wife, designer Nicole Farhi.
Other audience members included 83-year-old Patricia Macnaughton.
"Because I'm an old lady I've brought a cushion," she told the BBC.
Sophie Kisilevsky, 20, added: "I'm quite glad there are a few breaks because it's so long and I've heard it's quite intense."
The first interval arrived at 16:30 BST. BBC arts correspondent Rebecca Jones said "not everyone stayed awake" for the first act, which stretched through to chapter three of the book.
"One woman I saw had slipped off her shoes," she said.
"A man was nibbling dried mangoes to keep his energy levels up. Another audience member said he wasn't enthralled... yet."
'Marathon'
Published in 1925, The Great Gatsby has long been regarded as a US literary classic.
Set in New York, the story is about the dreams and delusions of the nouveau riche in the 1920s.
The idea to turn the novel into a stage play came from John Collins, of experimental theatre group Elevator Repair Service.
He told the Guardian the aim was to make a show using "non-dramatic source material. To take something from one medium and make it work in our medium."
The production begins in an office that has clearly seen better days. As an unenthusiastic employee waits for his computer to boot up, he discovers a battered copy of Gatsby, and reads the opening line: "In my younger and more vulnerable years, my father gave me some advice..."
Over the course of the next eight hours (including three intervals), the character recites, and is seduced by, the text of the Jazz Age novel. Gradually, his work colleagues "become" characters in the novel, the text merging with real life.
Scott Shepherd, the actor who plays the narrator Nick Carraway, said he now knows the text of Gatsby off by heart.
His other cast-mates have likened the performance to a "marathon".
"They serve us Power Bars in chapter four, get a cigarette in chapter eight, and maybe if you're lucky a shot of whiskey," Jim Fletcher, who plays Jay Gatsby, told The Huffington Post during the play's New York run.
"[The show] becomes your day. It has a way of absorbing whatever your state is," Shepherd added.
"So when I get exhausted, it's like, 'ok that's what we're going to funnel'. The channelling of the book will then come through this exhaustion."
Gatz is one of three productions of Fitzgerald's novel due this year.
A musical adaption will open at the King's Head Theatre in Islington, north London in August.
Moulin Rouge director Baz Luhrmann is also putting the finishing touches to a 3D film adaptation, starring British actress Carey Mulligan, Tobey Maguire and Leonardo DiCaprio, who takes the title role.
A trailer for the movie , which is scheduled for release at the end of the year, was released in May.
It is scored by anachronistic music from the likes of rappers Jay-Z and Kanye West, suggesting the movie will use a similarly scattergun approach to Luhrmann's updated version of Romeo and Juliet.