Busted star James Bourne heads for Loserville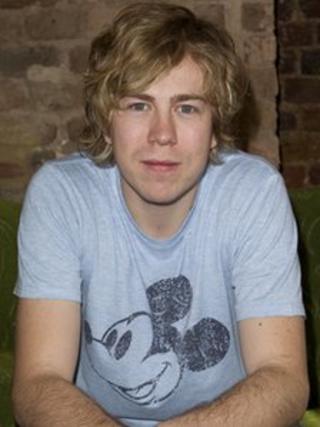 A decade ago, Busted were the biggest pop band in Britain. Guitarist James Bourne's next band Son Of Dork soon slipped into obscurity - so why are their songs being revived for a stage musical?
The time when Busted ruled the charts feels like a different era, and perhaps 10 years does qualify as an epoch in the fickle and fast-moving pop world.
The top 40 was based on CD sales rather than downloads, Top of the Pops still existed and three spiky-haired young chaps played punchy punk pop about fit teachers and time machines.
They appeared exciting to their pre-adolescent fans and harmlessly hummable to the parents.
What's more, after years of manufactured pop like Take That, the Spice Girls and Westlife, Busted wrote their own songs and played their own instruments.
"I do think that we were the band of our era," says Bourne, the guitarist, singer and songwriter remembered for his two-tone dyed hair and baggy skate shorts.
"While we were around, we were the pop band in this country. So without my band, there's a big hole in pop music between 2002 to 2005."
Bourne, now 28 and more manly in face structure and stature than his former boy band self, believes Busted's music has stood the test of time.
"They still play it on the radio," he says. "Ten years ago, I used to do interviews and people used to go, well, it's not going to be around, is it, in 10 years? And it is."
He does not specify which radio stations. Digital station Fun Kids is their biggest current outlet, according to airplay tracker CompareMyRadio.com , followed by 106.8 TCR FM (Total Choice Radio For Tamworth).
But anyway.
After Busted's acrimonious split in 2005, Bourne formed Son Of Dork, whose debut single Ticket Outta Loserville went to number three in the UK and follow-up Eddie's Song also made the top 10. However their album Welcome To Loserville limped to number 35.
But when Bourne bumped into neighbour Elliot Davis, a musicals composer, he liked the clever, character-led storytelling in Son of Dork's songs.
And listening to the lyrics, some tracks are fabulous, self-contained teenage sagas.
So the pair decided to use them in a stage musical and came up with a story about a geek in an American high school in 1971, who invents email and at the same time discovers girls.
Titled Loserville, the musical is a classic story of an underdog come good - which will appeal to a teenage audience - while the heavy nostalgia will strike a chord with the parents.
It is being staged by the West Yorkshire Playhouse in Leeds, one of the country's most respected producing theatres, where it opens on Monday.
The creative talent includes musical director Martin Lowe, who worked on Mamma Mia! and War Horse and has just won a Tony Award on Broadway for Once.
And the cast features Gareth Gates, former chart star "Lil" Chris Hardman and former EastEnders actor Aaron Sidwell.
Five songs from Son Of Dork's album have made it into the show. Broaching the fact that the album was not as well received as those by Busted touches a nerve.
"What do you mean by that? It didn't sell as many?" Bourne responds.
"It went gold in England. It did 100,000 copies in England on the back of two songs and we had no radio play."
He points to the single's chart placings but explains that his record label were not as excited by Son Of Dork as they were by Busted, adding: "Sometimes labels fail artists."
Even so, why should people be attracted to a musical when they were not particularly enthusiastic about the album upon which it is based?
"Oh my God," he says. "I think that's a very easy question to answer. I think that you cannot judge… I see bands every day who are making music and the amount of records they've sold…
"Put it this way," he goes on. "I'm not a Steps fan. But they've sold millions and millions of albums. Now I'm fans of bands that don't even have record deals."
Bourne's point is that sales are not necessarily a reflection of quality, and he starts talking about good bands that got nowhere.
Elliot Davis interrupts: "I want to help with this.
"The Welcome To Loserville album had an absolute musical integrity, and what James did in three minutes, writing stories in pop songs, they were absolutely inspirational," he says.
"The album is a foundation, a stepping stone for the musical. It would be like saying, if you don't like Huey Lewis And The News, you won't like Back to the Future."
The US band had several songs on the movie's soundtrack.
"Exactly," adds Bourne.
"It's a stepping stone and it's an ingredient of what makes the musical," Davis continues.
"And what is most important in this musical is the story and the world," by which he means the world they have created on stage, "and that story is helped and beautifully delivered by five of the songs on that album. The rest of the songs are all new.
"Come and see it because you're a fan of new musical writing or because now there's a new musical out there that speaks to your generation.
"It's a timeless story about staying true to yourself, about belief, about being an outsider but still coming through. That's why you should come and see the musical, not because the album sold 100,000 copies, 200,000 copies or a million copies."
"Yeah, it's irrelevant," says Bourne.
There it is then - you do not have to be a fan of Son Of Dork, or Busted for that matter, to enjoy the show.
New talent in the world of musicals should be encouraged, and it will be up to theatre-goers to decide whether they are winners or losers.