Revamped Dallas proves a US ratings hit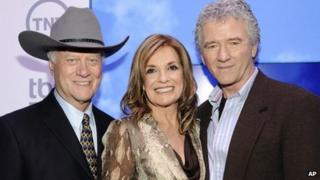 A reboot of classic TV soap Dallas has proved a hit in the US, with an average of 6.8 million viewers tuning in for its debut episode.
Wednesday's show secured the highest ratings for the premiere of a scripted series on a cable channel this year.
Shown on TNT, it reunites Dallas stars Larry Hagman, Patrick Duffy and Linda Gray as JR, Bobby and Sue Ellen Ewing.
A new generation of Ewings includes former Desperate Housewives actor Jesse Metcalfe.
He plays Christopher Ewing who, along with cousin John Ross Ewing (Josh Henderson), continues the legendary family rivalry on Southfork ranch.
The original Dallas, which aired from 1978 to 1991, centred around Ewing brothers JR and Bobby's long and bitter battle over the family fortune.
Channel Five will screen the new 10-part series in the UK in September.
US critics gave it mixed reviews, with some accusing the show of "cashing in" on the original, and the actors of turning in "wooden" performances.