David Dimbleby to sail around Britain for new BBC show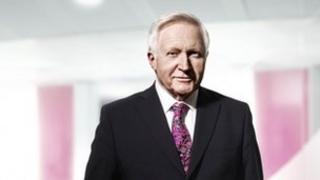 Veteran broadcaster David Dimbleby is setting sail around Britain for a new BBC series examining how our relationship with the sea influences art and culture.
The BBC One show, which has the working title of Britain and the Sea, features Dimbleby on board his own boat, Rocket.
The corporation said the programme would "explore the rich heritage of Britain's maritime art and culture".
It is one of several new arts programmes commissioned by the BBC.
BBC One's flagship arts strand, Imagine, returns in the Autumn with an exclusive interview with Salman Rushdie.
In The Fatwa: Salman's Story, the author talks about the experience of living under a death sentence when a fatwa was issued against him in 1989, following the publication of his novel The Satanic Verses.
In addition, The Culture Show will be on air on BBC Two across the summer to cover the best of the 2012 Cultural Olympiad.
The move to a weekly peak-time slot, at 10pm on Wednesday, is the start of a new year-round commitment by the BBC to covering the arts.
The show will also air ten hour-long specials across the year, including a behind-the-scenes look at the construction of Britain's biggest piece of public sculpture, The Arcelormittal Orbit, in London's Olympic Park.
Meanwhile, the BBC's award winning arts strand Arena is opening its archive online, via The Space.
The new on-demand digital arts service has been developed by Arts Council England, in partnership with the BBC.