Danny Baker to write Muppets-style show for BBC One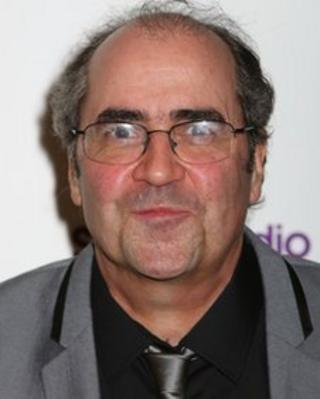 Broadcaster and comedy writer Danny Baker has confirmed he is writing a new Muppets-style TV show for BBC One.
With a working title of No Strings Attached, it will feature puppets alongside real-life celebrities.
The teatime show is being developed in collaboration with The Jim Henson Company, the production outfit behind The Muppets.
"I'm writing the new Muppet/Puppet show for BBC/Henson," Baker revealed on Twitter . "There I've said it."
The 5 live and BBC London presenter also posted a picture of himself posing with Muppets character Kermit the Frog.
Baker, who has previously written material for Chris Evans and Jonathan Ross, won a Sony Radio Award last month for speech radio personality of the year.
Last year he revealed he had received the all clear after being diagnosed with cancer in 2010.
'Madcap fun'
BBC One controller Danny Cohen said: "It's wonderful to be working with the Henson Company and a writing team led by Danny Baker."
The show's two celebrity guests will take part in sketches and go head-to-head in a series of games run by the puppets.
The BBC described the show as a "warm, cheeky, family affair fuelled by a healthy dose of off-the-wall, madcap fun."
The creative team includes Brian Henson as lead puppeteer, with the puppets created by Jim Henson's Creature Shop in Los Angeles.
Executive producer Derek McLean said: "We are delighted and honoured to be providing both desk-space and an original idea to such a powerful array of showbiz talent in what promises to be the longest credit roller in history."
The Muppets recently returned to the big screen, going on to win this year's Oscar for best original song. A sequel will start filming next year.
A new Muppets TV series is also in the works in the US.