Mark Rylance goes back to the Bard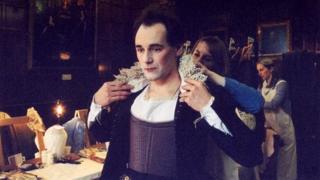 Actor Mark Rylance talks about his return to Shakespeare's Globe, performing the Bard "by stealth" and his reservations over taking part in the Olympics opening ceremony.
He has been called the greatest stage performer in the world, and Mark Rylance has a string of awards to back up that claim.
His performance as Johnny 'Rooster' Byron in Jerusalem won praise and plaudits on both sides of the Atlantic, including trophies at the Olivier and Tony awards.
But he made his name with Shakespeare. Indeed, Al Pacino once said Rylance made Shakespeare's words sound as if the Bard had written them for him the night before.
Between 1995 and 2005, the 52-year-old was artistic director of the Shakespeare's Globe in London.
Now, for the first time since he stepped down, Rylance is returning to the Globe, to play the title role in Richard III and Olivia in Twelfth Night.
"It seemed like the right time," he says simply.
'An old friend'
First up is Richard III. Rylance has never played Shakespeare's notorious villain and still does not know what sort of man his Richard will be.
"I hope he'll be as convincing as some of the characters that we see in the news and read about in history," he says.
Such people, he continues, "are able to carry such cruel intentions in their heart without their family members - or indeed their victims - knowing that they are so lacking in empathy, until it's too late."
For his other performance, Rylance will appear as Olivia in Twelfth Night. He is reprising a role he played 10 years ago at the Globe, in an all-male production of Shakespeare's comedy.
"It makes me smile to think I'm going to be her again," he says. "There is none of that initial tension.
"It's like meeting an old friend," he goes on. "You pick up where you left off."
It is a busy summer for Rylance. In addition to taking on two major Shakespearean roles, he is also involved in What You Will: Pop-Up Shakespeare, part of the London 2012 Festival.
Fifty actors - all disguised as "normal people" - will approach unsuspecting members of the public and start reciting one of the Bard's speeches or sonnets.
The plan is "to infiltrate a place and ambush people with eloquence," the actor explains.
He chuckles when I wonder whether some people might object to being accosted in the street, on the Tube or in a park.
"They might not be too thrilled about it, but that's the trick - for it not to be an imposition but an invitation to listen," he says.
"No one is going to be grabbed and told 'listen to this, it's good for you.'"
But he is coy about his own involvement. "The trouble is people recognise me a bit much these days, and these people have to be unrecognisable.
"But I am planning to take part," he confirms.
Before that there is the Olympics Opening Ceremony on 27 July, at which Rylance is rumoured to be performing a speech from Shakespeare's The Tempest.
"I'm not saying anything, my Lord," he laughs. "I have my 18-page contract in my pocket, which I've read, which forbids me to say anything."
After admitting he will take part, however, he confesses to reservations about his role.
The question of "private sponsorship being supported by tax-payers' money" troubles him.
"And private sponsorship for companies that are not really necessarily behaving all that ethically," he adds.
The actor says he has "big questions about BP and big questions about McDonalds and the amount of sugar and obesity that's costing the NHS billions".
"It's getting close to when the government will have the guts to say something about it - the guts, literally.
"I have thought since agreeing [that] maybe I shouldn't be doing this. And if people feel critical of us who have taken part, I think they've got a point.
"But on the other hand, I think all these athletes have trained... So the human endeavour aspect of it is so wonderful that I wouldn't want it to stop.
"And I wouldn't want always to be a nay-sayer or a chastiser."
Twelfth Night and Richard III open in July at Shakespeare's Globe and will transfer to the Apollo Theatre in November.