Guest musicians to play at Mumford and Sons shows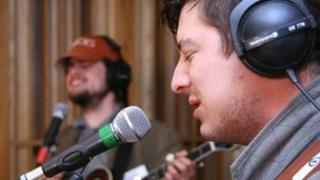 Mumford and Sons are to play their forthcoming festival shows with a guest drummer and guitarist after Marcus Mumford broke his hand.
Harry Cargill and Chris Maas will help out on guitar and drums at the band's European gigs.
The band had to cancel appearances last weekend at Denmark's Northside Festival and Hultsfred Festival in Sweden.
An apology on the band's website said Marcus would be in a cast "for the next few weeks."
Extra musicians will play at shows in Germany, Luxembourg, Spain and Portugal.
Mumford and Sons will release their tour film, Big Easy Express, on DVD on 24 July, to be followed by a new album on 24 September.