Olympic Stadium gets architecture award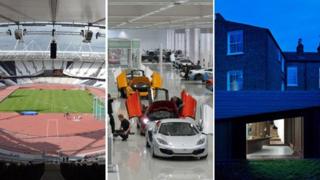 The London 2012 Olympic Stadium, a sports car factory and a house extension have been named on a list of Britain's best new buildings.
The Royal Institute of British Architects (Riba) has given awards for architectural excellence to 50 designs.
They will now go forward, along with nine more buildings from the EU, for Riba's top award, the Stirling Prize.
The list also includes schools, art galleries and an opera pavilion. Riba said many displayed "austerity chic".
"What really stands out is that even in times of austerity, we can still deliver amazingly clever, high quality buildings that reflect the needs of today and enhance our daily lives," said Riba president Angela Brady.
Many architects have crafted considered designs using materials that emphasise "texture, authenticity and environmental efficiency", Riba said.
The organisation pointed to the Brockholes nature reserve visitor centre near Preston in Lancashire, with its wooden "floating village" design, as an example.
Ten of the 50 buildings are public arts buildings, including the new Hepworth Wakefield gallery, Bath's Holburne Museum and the Turner Contemporary gallery in Margate, Kent.
The most imposing structures include the Olympic Stadium and St Pancras Chambers in London, a London hotel that has had a £200 million renovation.
At the other end of the scale, there are awards for extensions to private houses in Osborne Park on the outskirts of Belfast and Dalling Road in Hammersmith, west London.
At 46 square metres (495 square feet), the latter is the smallest site on the list.
In Surrey, the McLaren Production Centre is used to build high-end MP4-12C sports cars.
The 600-seat Garsington Opera Pavilion is in High Wycombe and is dismantled after every season.
Two cancer care centres operated by the Maggie's charity in Swansea and Glasgow are listed, along with Dundee Council Civic Office and the Public Records Office of Northern Ireland in Belfast.
Education facilities include Henrietta Barnett School in Hampstead Garden Suburb, London; Brentwood School Sixth Form Centre in Essex; and Kirk Balk Community College in Barnsley, South Yorkshire.
Last year's Stirling Prize was won by the Evelyn Grace Academy in Brixton, south London.