The housing estate children and the orchestra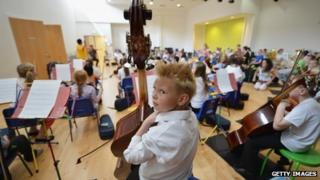 About five years ago I sat in a wood panelled room somewhere in London and heard the words "Cultural Olympiad" for the first time. It was Jude Kelly, the artistic director of London's Southbank Centre, who uttered them as she was leading the project with an amorphous name at the time.
Over the ensuing five years much has changed. Jude Kelly has taken a back seat after Ruth Mackenzie, an ex Department of Culture, Media and Sport special adviser and arts festival producer was put in charge.
She quietly dropped some of the more adventurous ideas from the previous regime, gave up on ever persuading us that something called a Cultural Olympiad could possibly be anything other than awful, and instead focused her attention - and £55m of public money (from the Lottery, Arts Council and Department of Culture Media and Sport) - on creating a 12-week arts festival to take place during this Olympics summer.
And it starts today: London 2012 Festival has begun. This evening anybody near Lake Windermere or Londonderry or the National Botanical Gardens in Carmarthen will get to see the first fruits of her labours and your money.
I am in Stirling in Scotland to report on The Big Concert, another of the festival's main launch events. It's taking place in the shadow of Stirling Castle in a field in front of a housing estate in the Raploch area of the city that once had a reputation for causing trouble, but now has one for making music.
The change in public image is down to the good offices of Richard Holloway, a one-time Scottish Arts Council man. He went to Venezuela and saw the country's famous El Sistema orchestra project and decided to import its model of social regeneration though immersing children in playing classical music.
Raploch was identified as a neighbourhood that could use some musical TLC, a place that - at the time - had just one child in the community of 3,000 people playing a musical instrument according to the George Anderson of Sistema Scotland. That was in 2008.
Today that number is 450, which accounts for about 75% of all primary school aged children in the community. Of the original 30 recruits, 28 are still taking part on a regular basis, by which I mean three or four three-hour sessions every week.
Tonight, in front of around 8,000 people, in a field by the housing estate where the children live, 125 members of Raploch's Big Noise Orchestra will take to the stage with the world famous Simon Bolivar Orchestra of Venezuela and play to an audience that has come from all corners of the earth to listen.
I watched them rehearse yesterday and have rarely seen anything so moving and memorable. The tiny, T-shirted primary school children of Raploch sat shoulder-to-shoulder with the mighty Venezuelans and played the overture from Beethoven's Egmont with passion and poise. Together they were the embodiment of the Olympian spirit.
Two groups of people of different ages from different continents - many of whom have not had an easy start to life - playing together in perfect harmony.
A survey of parents and carers in Raploch revealed that 100% of those questioned thought that the children involved were more confident. Ninety-three per cent thought the kids were happier.
At an estimated £1,700 per child, per year, it is an expensive way to learn music - but Anderson argues the project offers those involved much more than just learning a musical instrument and a bit of self-confidence. Communal cooperation, self-discipline and a sense of structure are all cited as benefits.
The children are overjoyed but not overwhelmed to be in the presence of Gustavo Dudamel and his orchestra, who are here because of London Festival 2012. The event tonight would not be happening otherwise.
But I wonder how many people who attend the concert tonight or watch it on BBC Four will realise that it is part of the Olympics. Recognition is going to be the problem for festival 2012, as it was for the unloved Cultural Olympiad. After all we're used to having world- class arts events in this country.
There is a possibility that London 2012 Festival is a great success in terms of attendance and reach, but few associate it with the Olympics. And that would be a failure, given that to do so was its primary aim.