Helen Mirren to receive Hollywood star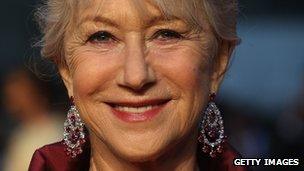 Dame Helen Mirren is to be honoured with a star on Hollywood's Walk of Fame next year.
The Oscar-winning actress is among 24 new inductees who will receive the pavement plaque.
Other film stars to receive the honour in 2013 include Ron Howard, Javier Bardem, Jennifer Hudson, James Franco and Viola Davis.
From the music world, recipients include Usher, New Kids on the Block and Backstreet Boys.
There are also posthumous honours for Janis Joplin and Luther Vandross.
While Glee star Jane Lynch, chat show host Ellen DeGeneres and The Mentalist's Simon Baker are among the TV personalities to receive the plaque.
The Hollywood Chamber of Commerce meets every June to select around 20 new inductees from hundreds of nominations.
Stars who accept the honour have to pay $30,000 (£19,000) in costs, fees and upkeep of the stars.
Some of the recipients took to Twitter to talk about their new accolades.
Backstreet Boys member Nick Carter wrote : "I feel like Lebron James and we just won the NBA title... finally!! We have been accepted for a star on the Hollywood walk of fame! Amazing."
And Futurama star Katey Sagal said : "Years ago I was doin' The Walk of Shame. Look at me now."
The full list of new nominees for 2013 are:
Movies: Rick Baker, Javier Bardem, Viola Davis, James Franco, Ron Howard and Helen Mirren
Television: Simon Baker, Bryan Cranston, Ellen DeGeneres, Jane Lynch, Katey Sagal and Matthew Perry
Music: The Backstreet Boys, Jennifer Hudson, Jane's Addiction, Janis Joplin, New Kids on the Block, Usher Raymond IV, Thalia and Luther Vandross
Live theatre: Olympia Dukakis and Penn & Teller
Radio: Steve Harvey and "Shot Gun" Tom Kelly
Related Internet Links
The BBC is not responsible for the content of external sites.