Jennifer Hudson to guest star on Smash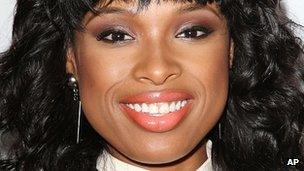 Oscar-winning actress Jennifer Hudson is to join US musical drama Smash for a multi-episode storyline next season.
The 30-year-old will play Veronica Moore, a Tony Award-winning Broadway star who ruffles the feathers of fellow characters Karen and Ivy.
TV network NBC said Hudson's character would "represent someone who reached their Broadway dream but also paid a price for it".
The series is due to return to US TV screens early next year.
"We're thrilled to have Jennifer Hudson coming to 'Smash,'" Robert Greenblatt, chairman of NBC Entertainment said.
"This series is a showcase for some of the best musical talent in the business and that's a fitting description for Jennifer."
Steven Spielberg, who serves as the executive producer on the show, added: "First Dreamgirls, now Smash. I have no doubt Jennifer will continue to deliver even more inspiration to the audience responsible for giving us a second season on NBC."
The show, which centres on the production of a Marilyn Monroe-based musical, also stars Angelica Huston, Katharine McPhee, Megan Hilty, Debra Messing and Jack Davenport.
Uma Thurman and Jonas Brothers member Nick Jonas were among the guest stars on the first series, which is shown on Sky Atlantic in the UK.
Related Internet Links
The BBC is not responsible for the content of external sites.