Apprentice star Nick Hewer to fix farms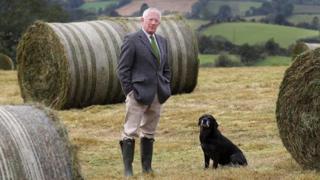 Apprentice and Countdown star Nick Hewer is to help struggling farmers turn their businesses around in new show The Farm Fixer.
Lord Sugar's right-hand man will leave the boardroom to share his expertise with five family farms experiencing problems.
Starting on BBC Two next month, Hewer will work as a troubleshooter helping them find new ways of making money.
"The small family farm is the backbone of the UK countryside," said Hewer.
"I wanted to use everything I had learnt, over the past 40 years of business, to help them come through this difficult time."
The week-long teatime series will see Hewer help farmers develop new products, create brands and find customers.
His business ideas include harvesting seaweed, brewing beer, producing flavoured pet water and entertaining cruise ship groups.
The show starts on 9 July in rural Northern Ireland, where many small farms have been passed down through generations.
Hewer said he would stick to the business mantra "Doing nothing is not an option".