Bobby Womack returns to music after cancer recovery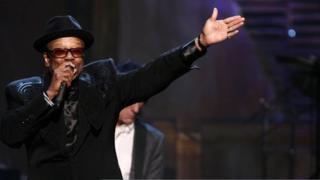 Soul singer Bobby Womack has told how he plans to tour the world, even though he has just been given the all clear from prostate and colon cancer.
Releasing his first new album for 18 years, he told BBC Radio 4's Front Row programme he was feeling better but still had "a long way to go".
"They keep telling me one step at a time, one day at a time - but I am planning on going around the world and letting these people know what soul singing really was about," Womack said.
"Because I have the energy and the vocals to put it on. They deserve to know it, they don't have to read it in a history book."
Womack revealed he had also had pneumonia twice and collapsed lungs.
"Everything died at one time. I've never been so sick in my life and they say it started to happen on the Gorillaz tour," he said.
Womack toured the world for three months as a guest vocalist with the British band Gorillaz in 2010.
"I didn't want to tell them that I was having these seizures and I was losing my sight because I'd seen this was an opportunity... to sing with these guys and I really liked being around them. This was a break for me," he said.
The Bravest Man in the Universe is Womack's first studio album since 1994's Resurrection. It was recorded in Gorillaz creator Damon Albarn's Studio 13 in west London and New York's Manhattan Centre and it was Albarn that ensured it came about.
"Damon said after the tour is over we've got to record something together - he said, 'I think there's a lot of you that hasn't been touched'," Womack told Front Row.
Womack credits Albarn with "welcoming him back into the music community" but he admitted when he had been asked to work with the Gorillaz he had not known who they were.
He said his daughter had begged him to do it.
"She was going nuts and I was shocked and I said this has got to be something.
"So her being excited - I got excited."
Womack started out in music in 1953 with his brothers singing on the gospel circuit, before they were discovered by Sam Cooke.
He has worked with a long list of artists including Aretha Franklin, Ray Charles, Wilson Pickett, Elvis Presley, Janis Joplin, Sly and the Family Stone, The Faces, George Benson and The Rolling Stones.
He admitted in his autobiography, Midnight Mover, that he had abused hard drugs and he told Front Row he was surprised his voice had survived.
"I can't explain that at all, but I sing better today than I did 20 years ago," he said.
When pushed, he credited his father with teaching him and his brothers to sing properly.
"He always said, 'Don't scream and watch your voice - let nature take its course'."
Womack cannot believe he has outlived so many other soul singers from his era and stayed in the music business so long, especially with "the drug habit and all the negative things".
But with some live dates already booked, he is showing no signs that his music career will be slowing down any time any soon.