How does theatre perform at music festivals?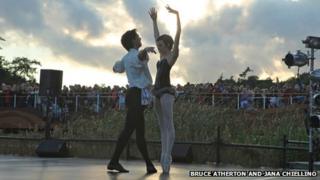 Theatre and dance have gained higher profiles at music festivals in recent years. But what do arts organisations gain from the experience?
It's Sunday night. It's nearly time for Paul Weller. How about getting in the mood with some Harold Pinter? Or a ballet from Sadler's Wells?
That's just one scenario on offer at the Latitude Festival this weekend.
While musicians rubbing shoulders with comedians and performance artists at festivals is nothing new, Latitude has seen its theatrical offering expand from a single tent in 2006 to nine different areas at its home in Henham Park, Suffolk.
"At the start a theatre in a field was quite a difficult concept for people to grasp," concedes Latitude's creative director Tania Harrison.
"It's now our seventh year and theatre is one of the biggest things we do at Latitude. We've got to the stage where people are queuing to go into the theatre tent."
The festival hosts work from major companies such as the National Theatre as well as smaller fringe producers.
Sadler's Wells is putting on extracts from new British Bollywood musical Wah! Wah! Girls - ahead of its run at Theatre Royal Stratford East - and an excerpt from The Most Incredible Thing, a ballet collaboration between the Pet Shop Boys and choreographer Javier De Frutos.
Theatre Delicatessen will stage an immersive Shakespeare's Henry V complete with an army encampment.
So what does a major theatre company like London's Lyric Hammersmith gain from putting on work away from its normal environment?
"It's really important for a big company like us to get our hands dirty," says artistic director Sean Holmes. "It's very easy to get stuck in a certain model of making work."
As well as cultivating new audiences, it's also about forming relationships with a new generation of theatre companies.
The Lyric has co-commissioned five theatre companies to make site-specific pieces for Latitude, one of which is Lewis Carroll's Mad Hatter's Tea Party brought to life by Les Enfants Terribles.
"It's a really good way of testing if stuff works, because if you can hold the attention of a festival audience, then the kernel of a show is there," explains Holmes.
He cites the example of A Midsummer Night's Dream, premiered two years ago at Latitude, and which this year played in the Lyric's main theatre prior to going on tour.
"It was made in a deliberate mad rush for a tent in the middle of a field," says Holmes.
"Something about that energy still remains. It's a Lyric Show and it's also a Latitude show and it's infused with that spirit of make-do and invention."
Tania Harrison, who has commissioned more shows this year than ever before, describes her programme as "a curious adventure".
"Theatre talks about the things that are relevant now," she says, referring to 2012's "Pagan to Occupy" theme.
Exploring this idea, Shropshire-based Pentabus Theatre has created a show - Stand Up Diggers All - about a rural protest group during the English Civil War.
"All of our work is about trying to dig deep into the psyche of the English countryside," says Elizabeth Freestone, artistic director of Pentabus.
The Diggers, she explains, were an early form of the Occupy movement. They moved onto unused land, owned by the rich, to grow food for the starving peasant population.
"The protest movement spread through the use of song - they were the first people to invent protest songs," she says, adding that the show includes original Digger songs, the lyrics of which are preserved in the British Library.
As well as three performances over the course of the festival, there will be a permanent Digger encampment in the area known as the Faraway Forest.
But how should audiences behave at a performance so far removed from a traditional theatre setting?
"It's so informal that people could come and watch it for 10 minutes or three hours if they wanted," says Freestone. "The show is made very specifically for this environment."
Mimi Poskitt, artistic director of documentary-theatre company Look Left Look Right, agrees that festivals create a different relationship with a theatre audience.
"The attitude of a Latitude audience is suck it and see. For an actor, it's going back to the roots of theatre, like the bawdy crowds at The Globe.
"People can come and go as they want. People might stick their heads in for five minutes, while chatting to their mate with a pint in their hand."
She adds: "It's been a great platform for me to develop crazy ideas in front of an audience who aren't afraid to tell you what they think."
Latitude 2012 is at Henham Park in Suffolk from 12-15 July
More UK festivals with theatre and dance in July
Nova Festival , West Sussex (5-8 July)
Larmer Tree Festival, near Salisbury (11-15 July)
The Secret Garden Party , near Huntingdon, Cambridgeshire (19-22 July)
Camp Bestival , Lulworth Castle, Dorset (26-29 July)
Barefoot Festival , Prestwold Hall, Leicestershire (27-29 July)
Nozstock , Bromyard, Herefordshire (27-29 July)
WOMAD , Charlton Park, Malmesbury, Wiltshire (27-29 July)