Obituary: Nora Ephron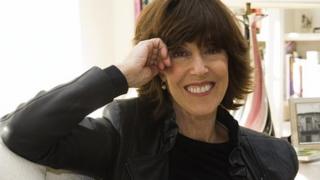 After great success as a journalist and author, Nora Ephron - who has died aged 71 - became one of Hollywood's finest makers of romantic comedies.
Ironically, her big movie break was the adaptation of her 1983 novel based on the end of her second marriage, Heartburn.
Subsequent box office hits included When Harry Met Sally, Sleepless in Seattle and You've Got Mail.
The Directors Guild of America called her "an inspiration for women filmmakers when there were few".
Ephron was born on 19 May 1941 in New York, to a Broadway playwright and a Hollywood screenwriter.
After a move to Los Angeles when she was four, regular visitors to the family home included the writers behind films including Casablanca, Sunset Boulevard and It's a Wonderful Life.
People not in the business were known as "civilians", Ephron later wrote.
Determined from high school to be a journalist, Ephron started as a "mail girl" and fact checker at Newsweek.
Ephron worked as a reporter at the New York Post for five years, later writing for Esquire and the New York Times.
Her pieces gained a national following, part of her appeal being fresh, witty takes on traditional female subjects like food and fashion.
In her later years, she was still writing essays and scripts and blogging for the Huffington Post.
"She brought an awful lot of people a tremendous amount of joy," her publisher, Alfred A Knopf, said.
Ephron's first marriage to writer Dan Greenburg ended in 1976 and later that same year, she wed Washington Post reporter Carl Bernstein, who - along with colleague Bob Woodward, uncovered the Watergate political scandal.
They had two children, but the later messy divorce resulted in Heartburn which was adapted for the screen in 1986, starring Meryl Streep and Jack Nicholson.
Ephron later said she highly recommeded "having Meryl Streep play you" because "she plays all of us better than we play ourselves".
Following the success of her novel, she went on to write the nuclear power drama Silkwood, starring Streep again and Cher, which earned both actresses Oscar nominations.
Ephron also gained her first Oscar nod for best screenplay for the real-life inspired film about Karen Silkwood, who died in suspicious circumstances while trying to uncover wrongdoing at the plutonium plant in which she worked.
Another Oscar nod followed for 1989 romantic comedy When Harry Met Sally, featuring the famous fake orgasm scene and cementing Meg Ryan's role as America's Sweetheart for a decade.
Ephron moved into directing in 1992, making her debut in This Is My Life which had limited success in the US.
But her fortunes reversed a year later when her second effort, Sleepless in Seattle, was a box office hit.
Starring Ryan and Tom Hanks, it earned Ephron her third Oscar nomination, although the award again eluded her. She teamed up again with the pair in 1998 for You've Got Mail.
"At a dinner table and on a film set she lifted us all with wisdom and wit mixed with love for us and love for life," Hanks said of her.
Ephron failed to impress critics with her next two films, 2000's Hanging Up starring Diane Keaton, and a film version of US series Bewitched in 2005 starring Nicole Kidman.
But her last film - 2009's Julie and Julia - was received more positively, with Streep in the lead role as US celebrity chef Julia Child, earning the star her 16th Oscar nod for best actress.
Ephron wrote about ageing in her 2010 essay collection I Remember Nothing.
Promoting the book, she urged people: "You should eat delicious things while you can still eat them, go to wonderful places while you still can."
Ephron is survived by her third husband of more than 20 years, Goodfellas and Casino screenwriter Nicholas Pileggi.