Jessie J faces copyright claim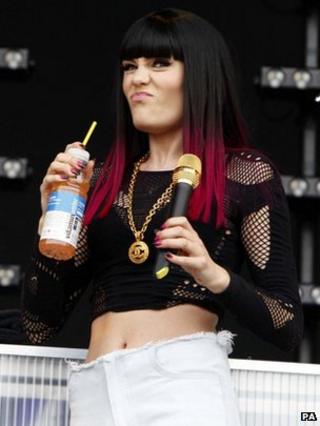 Jessie J is being sued by a US singer, who says that her single Domino copies one of his songs.
Will Loomis claims that portions of the British star's hit were lifted from his 2008 track, Bright Red Chords.
"Loomis never consented to the use of his song," said the singer's lawyer in a statement. "We look forward to obtaining an appropriate remedy".
Jessie J and her representatives said they would not currently be commenting on the case.
Loomis, from California, released his single with the band Loomis and the Lusts.
In April, he uploaded a video to YouTube highlighting what he said were the similarities between the two tracks. The video has since been blocked by Jessie J's record label on copyright grounds.
Domino was written by Jessie J along with Lukasz Gottwald (also known as Dr Luke), Kelly Claude, Martin Sandberg and Henry Walter.
Released last December, the song gave Jessie J her second UK number one.
The 24-year-old performed it at the Queen's Diamond Jubilee concert earlier this month, and it has spent 24 weeks on the US Hot 100, peaking at number six.
"When I wrote this melody in my garage I never imagined it would be sung for the King and Queen of England," wrote Loomis on his band's Facebook page .
"I especially never imagined it would be sung by Jessie J."
His legal case was filed in Newport, California. It names Jessie J under her real name, Jessica Cornish, as a defendant, alongside Universal Music Group, Lava Records, and Universal Republic Records.
The singer is seeking a jury trial and at least $150,000 (£96,000) in damages.