Reginald D. Hunter in line-up for riverbank comedy gigs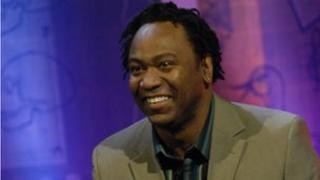 British comedians are setting sail from London for 10 pop-up gigs between the capital and Scotland.
A series of shows will take place along the riverbank as "The Pleasance" boat travels to Edinburgh, via Oxford, Manchester and Glasgow.
Reginald D. Hunter and The Idiots of Ants are among those taking part in the one-off event; Jenny Eclair will launch the boat on Thursday.
The finale will take place during the Edinburgh Festival Fringe in August.
Tell Tales from the Riverbanks is part of the London 2012 Festival comedy programme and is being staged by The Pleasance Theatre, launch pad for comedians including Bill Bailey and Mitchell and Webb.
The nine groups of comedians involved will explore the heritage of the places they visit, with local people also invited to take part in the gigs.
"Mucking about in boats is a quintessentially British pastime," said Anthony Alderson, director of The Pleasance.
"And what better way to take comedy from the cultural celebrations of this summer's Olympic and Paralympic Games in London to the Edinburgh Fringe festival than on a canal boat."
The details of each gig, including where along the riverbank the boat will dock, will be announced on the event website shortly before the gig takes place. Gigs will also be broadcast online.
Director of the London 2012 festival, Ruth Mackenzie wished the comedians and crew luck.
"It should be great fun for audiences they surprise on the way and who follow them online," she said.