Clockwork Orange songs make debut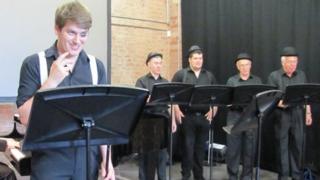 Songs written by A Clockwork Orange author Anthony Burgess for a musical version of his novel have been performed in the UK for the first time.
Burgess' operatic reimagining of his famous novel was composed 26 years ago, but the tunes had remained unheard.
Tenor Timothy Langston played gang leader Alex, accompanied by bowler hat-wearing members of Manchester Chamber Choir as his "droog" accomplices.
Together, they sang songs about their "ultra-violence" and "the old in-out".
Burgess' tunes, informed by Beethoven as well as classic musicals like West Side Story, feature lyrics written in the Russian-influenced argot invented by the author for his teenage anti-heroes.
The opening song uses one of the novel's recurring phrases, "What's it gonna be then, eh?", as its chorus. Another, depicting the authorities' over-zealous attempts at a cure, begins with a bellicose chant: "Discipline, discipline, let's have discipline, give him a haircut and shave."
Burgess composed a "play with music" to reassert ownership over his story after it was overshadowed by director Stanley Kubrick's controversial 1971 film.
The script has been performed before, notably by the Royal Shakespeare Company (RSC) in 1990 - but they enlisted Bono and The Edge of U2 to compose new songs rather than use Burgess' compositions.
Burgess, who died in 1993, wrote 33 novels, but once said he wanted to be known as "a musician who writes novels, instead of a novelist who writes music on the side".
Dr Andrew Biswell, director of the International Anthony Burgess Foundation in Manchester, where the performance took place, said the songs had not previously been aired in the UK because there was a "distrust of his music among professional musicians".
"He wasn't one of them," he said. "He wasn't formally trained. When the RSC did their production of the play, they wanted musicians you've heard of."
Dr Biswell said there was "every chance" Burgess' music would now be used in a fully staged production.
"Now the music's been properly edited and typeset, it becomes usable for other people," he said. "I'd never heard all of the music so this has been a revelation to me. I'd known the play for more than 20 years but suddenly this makes sense of the play for me."
The play differs significantly from the book and subsequent film, he said.
'More conventional'
"It becomes a love story. Alex acquires a girlfriend and intends to get married at the end of the play, and that love interest isn't there in the novel, and certainly not in the film. So, in many ways, it's a much more conventional theatrical happy ending.
"I think the reason he adapted this for the stage and wrote his own music was to reassert authorship over the story post-Kubrick. But also I think he got quite tired of the way the book and the film were talked about as products of violence.
"There had been a very dry, academic debate about violence, and the thing everybody had forgotten is that the novel he'd written is, in many respects, a comic novel.
"Burgess, in putting it on the stage, found an opportunity, not just to adapt, but to revise and reimagine and turn it into something new, and something that's meant to entertain.
"People don't go to the theatre because they want to see people being raped and murdered. There has to be something else. So adapting the story for the theatre gave him the chance to change the tone of it completely."
The performance was part of a conference to mark the book's 50th anniversary.