Jazz festival moves to embrace new trends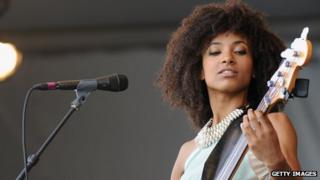 More than two million music lovers have descended on the Canadian city of Montreal for its 33rd Jazz Festival
The event has brought together dedicated jazz aficionados for what is understood to be the biggest and most diverse celebration held to date.
With 3,000 musicians and entertainers in attendance from some 30 countries, the festival describes itself as "a massive compilation album with jazz at its very heart".
It boasts more than 1,000 concerts and activities, most of them free, in 15 concert halls and on eight outdoor stages.
"It's one of the best music parties in the world," says Andre Menard, the festival's artistic director.
This year's line-up features appearances from jazz stars such as Wayne Shorter, Stanley Clarke, Melody Gardot, Norah Jones and Esperanza Spalding.
But also on the bill are acts like Rufus Wainwright and Seal, leading some purists to complain about a dilution of the genre.
The festival has become a big success since it started in 1980. But there is debate surrounding the current state of jazz, with some critics saying "jazz is dead".
"Jazz was popular music in the 1940s," says jazz musician Tim Richards. "But then Elvis Presley came along and things have never been the same.
"Jazz has become art, rather than entertainment, and I don't think it will be pop music again."
Professor Stuart Nicholson, author of Is Jazz Dead? (Or Has it Moved To A New Address?), remains optimistic.
"The creative impulse of jazz has now switched from America to Europe, so it's a very exciting point in jazz," he says.
Since the millennium, there has been major development of the European jazz scene.
Professor Nicholson says a new phenomenon, "glocalisation" - the localisation of global trends - and a by-product of globalisation, has taken effect specifically in Europe.
This has led, he explains, to the creation of music quite distinct from American jazz.
"In Scandinavia they have incorporated a folkloric aspect," he says. "Even Hungarian jazz has gypsy influences."
Pop versus jazz
The changing face of jazz is evident in the festival line-up - and it has come under scrutiny in recent years as a result.
Menard is aware that some "jazz heads" refuse to attend the festival, seeing it as "too contaminated" by mainstream artists.
This year, non-jazz musicians include Liza Minnelli, Ziggy Marley and Montreal's own Rufus Wainwright, who kicked off the festival on Thursday night.
"Rufus is not a jazz artist; to put him on the bill makes me laugh," says Richards. "It's really a pop music festival with a sprinkle of jazz."
"The jazz police are always on our backs," says Menard. "But our festival includes music in the neighbourhood of jazz without being jazz per se."
Richards believes this is confirmation that, by billing "crowd-pullers" instead of furthering the talent of new talent, jazz festivals exist "just to make money".
But Menard insists there is no evidence that including mainstream acts has increased ticket sales.
He also maintains the festival gives encouragement to all up-and-coming jazz musicians and helps "accelerate their notoriety, even if it's detrimental to the sale of tickets".
This year jazz trumpeter Ambrose Akinmusire was programmed "immediately" for an indoor show - "even if he couldn't sell many tickets", says Menard.
Like Akinmusire, British jazz rock band Get the Blessing have also been given a chance to perform.
'Incredible talent'
Backstage, just before his show at the Theatre Maissoneuve on Friday, Wayne Shorter welcomed the variety of music at the festival.
"Jazz has never been exclusive," says the man some have described as "the greatest living composer". "It's all about originality."
Melody Gardot, who performed the same night, expresses similar sentiments. "You can't put jazz in a box," she says. "It's our duty to constantly reflect the modernisation of music.
"This festival is a representation of what's happening in the world musically, and it's an honour to be around it."
As the discussion surrounding the relevance of jazz plays out, one thing is certain: there is no shortage of aspiring jazz musicians.
"There is incredible talent in Britain to the point it's become insanely competitive," says Richards, a jazz tutor at Morley College in London.
But the genre still suffers from marginalisation and needs more mainstream exposure if it is to have a future, he says.
"We need to have jazz on TV and radio. Most people think jazz is supermarket music; they haven't heard the real stuff.
"There needs to be an attack on funding, education and media."
The Montreal International Jazz Festival continues until 7 July.