Lamb of God singer Randy Blythe still in Prague prison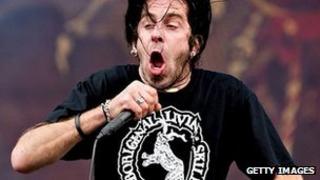 Lamb of God singer Randy Blythe remains in custody in Prague over the death of a fan, despite reports he had been released on bail.
The 44-year-old was arrested and charged with manslaughter last week over an incident in 2010, when he allegedly pushed a fan from a stage.
A spokesman for Prague 8 Court told the BBC that Mr Blythe had posted bail of four million Czech koruna (£126,000).
But the bail system in the Czech Republic is not as rapid as in the UK.
Although bail has been posted, the decision to release the US singer is still subject to appeal and so it will take some time for the state prosecutor's office to give approval.
There may also be certain conditions placed upon the singer's release, including forcing him to remain in the country if he is considered to be a flight risk.
As a result, the singer, from Virginia in the US, is still being held at Prague's Pankrac prison.
The court spokesman told he BBC he believed the decision on whether to release him would take "several days".
Mr Blythe's arrest stems back to the death of a fan during a concert at Prague's club Abaton on 24 May 2010.
According to reports, the 19-year-old had repeatedly tried to climb onto the stage before allegedly being pushed by Mr Blythe.
He hit his head when he fell to the concrete floor and died 14 days later of his injuries.