Eurovision: Lloyd Webber racism claims 'unfair'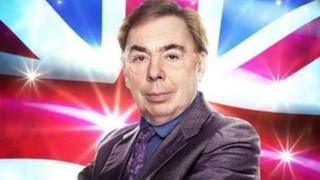 Organisers of the Eurovision have defended the contest against claims that racism had been a factor in the UK's poor record in recent years.
Andrew Lloyd Webber suggested in a Radio Times interview that black contestants fared worse in the voting.
He added that when he took Jade Ewen to the 2009 contest, he was asked "why have you brought a black artist?"
The European Broadcasting Union, which stages the annual event, said: "We have had no indications of racism".
"On the contrary, we celebrate the differences among different entries, truly uniting Europe for three nights a year."
"At this year's final we had a female black singer representing Ukraine," added the EBU.
"Also, the backing dancer of this year's winner Loreen, was black. Not to mention the French contestant Anggun of Indonesian origin."
Its statement was a direct response to Lord Lloyd-Webber, who criticised this year's competition during his interview.
"I don't think there's any point beating around the bush," said the 64-year-old, "I don't think there was one black face on the programme."
Fifth place
Ewen, who sang It's My Time at the 2009 contest, has a Jamaican mother and Scottish-Sicilian father.
The singer, now a member of the Sugababes, eventually came fifth in the competition. According to Lord Lloyd-Webber, though, she deserved more.
"At the press conference in Moscow, I was asked 'why have you brought a black artist?'" he told the Radio Times.
"I said, 'because she is the most talented artist that we had and I think she's a major, major star'.
"I think we would have come second but there's a problem when you go further east," he continued.
"If you're talking about Western Europe - Germany, fine; France, fine; Spain, fine; Greece, fine; Scandinavian countries, fine. But Ukraine? Not so good."
Asked whether he thought racism had ultimately cost the UK the title, he commented: "Well, it doesn't mean that we would necessarily have won that year but we could have come second."
The 2009 contest was won by Norway's Alexander Rybak, who was born in Belarus and sang his own composition, Fairytale.
In actuality, Ewen performed better than some of the UK's other entrants in recent years.
Andy Abraham and Josh Dubovie both came last, in 2008 and 2010 respectively.
This year the 76-year old crooner Engelbert Humperdinck received just 12 points for his song Love Will Set You Free, earning a second-to-last finish.
Meanwhile, the EBU pointed out that 2001 winner Dave Benton, representing Estonia, was of Caribbean-American descent.
The BBC, which broadcasts the competition in the UK, said the corporation had "no evidence whatsoever" of any racism around the Eurovision.
"Jade Ewen got to a very respectable fifth place in 2009 when 32 out of 41 countries gave the UK points," said a spokeswoman.
"Jade was given points from 19 Eastern European countries, including Ukraine, in 2009."