Eric Sykes in his own words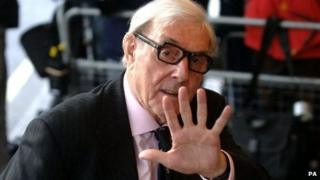 One of Britain's best-loved comedians Eric Sykes has died aged 89 following a career as a writer, director and actor spanning 50 years.
An improviser, he collaborated with Tony Hancock, Spike Milligan and Peter Sellers, and his air of surrealism combined with a gentle warmth produced some of the most memorable lines of his generation.
I asked my publisher what would happen if he sold all the copies of my book he'd printed. He said 'I'll just print another 10'.
Sykes published his autobiography If I Don't Write It Nobody Else Will in 2005, charting his contribution to postwar British comedy from writing for the Goons to developing Frankie Howerd's comic character. His comment about it, like the title, is typically self-deprecating.
'I've arrived and to prove it I'm here!' 'A good idea - son' 'Bighead!' 'Dollar lolly'
Comic entertainer Max Bygraves was amongst Sykes's many contemporaries who appreciated his skilful writing. When Sykes co-wrote BBC radio comedy series Educating Archie with Sid Colin, he effortlessly created these catchphrases. Bygraves explained: "Eric Sykes had this quick ear and could tell by any inflection I put into a line how to make it a catchphrase - at one time I had more catchphrases than I could handle."
They should have told me this yesterday; I could have built them a town hall.
Sykes describes in his autobiography constant visits to the toilet after an evening meal on safari in Kenya. After recovering the next day, he is taken on a tour of a Masai village. His comment came after the guide informed him that the huts were all made of cattle dung.
I had lunch with a chess champion the other day. I knew he was a chess champion because it took him 20 minutes to pass the salt.
Sykes rejected the brashness of some modern comedians who swore far too frequently for his taste. This is an example of his gentler, witty style.
I didn't hear a laugh for 25 years... then I got these and I realised I hadn't been getting any.
Sykes struggled with hearing loss for most of his life, as well as suffering gradual eye failure which left him almost deaf and blind by the 1990s. This joke about his physical difficulties was made on a chat show - as he pointed to his glasses.