Call to save threatened theatres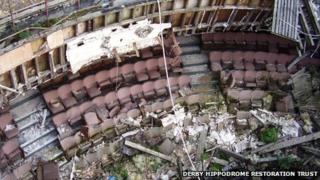 Almost 50 theatres across the UK are at "real risk" from developers or decay, a study by the Theatres Trust has found.
Some 49 venues are on the Theatres Trust's annual Theatres at Risk register - down from 56 last year.
The Trust said the reduction was "good news". Some have been taken off the list after being saved, but others have been removed after being demolished.
Theatres Trust director Mhora Samuel said owners should realise theatres were "assets not liabilities".
Those removed include Wilton's Music Hall in London and the Gaiety in Ayr, which have both found funding to be restored.
But the Waltham Forest Theatre in London has been knocked down, while the Brighton Astoria has been taken off the list after permission was granted for demolition.
Venues still on the list include Morecambe's Winter Gardens, which has been shut since 1977, and the Derby Hippodrome, which was partially demolished by its owner. An application to turn it into a multi-storey car park was refused.
Some threatened theatres are in areas that are earmarked for redevelopment, with no direct replacements planned, Mrs Samuel said.
They include the Precinct in Islington, north London, she went on, adding: "It's a tiny little community space but it's actually really important.
"There are pockets of real deprivation in Islington and one of the thing that theatre has done over the years is in effect provided a community arts drop-in facility for kids on the local estate. And in effect that won't exist in the future.
"These development pressures keep coming back and back. With the development pressures faces by the various owners, the theatre is the weakling.
"We want owners to recognise that they've got assets on their hands, not liabilities, and incorporating these assets of community value could enhance and improve on what their development might bring."