Jason Manford makes Sweeney Todd debut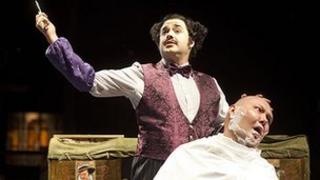 Comedian Jason Manford performed before some familiar faces on Thursday in his new role as an Italian barber in West End musical Sweeney Todd.
Downton Abbey stars Michelle Dockery and Brendan Coyle were among those watching the former host of The One Show make his official debut at London's Adelphi Theatre.
Manford will play Adolfo Pirelli until 28 July in the Stephen Sondheim show.
The comedian told the BBC News website it had been a nerve-wracking evening.
"It's so far out of my comfort zone," said the 31-year-old after his performance, revealing it felt "weird being nervous about an audience again".
"I'm not used to people being on stage with me who are already brilliant at it," he continued.
"To be on stage with Michael [Ball] and Imelda [Staunton] in your first play… you couldn't ask for better.
"But in many ways there's no pressure on me. I don't feel people are sat there going, 'I wonder when Jason Manford comes on.'"
Ball plays the title role in the critically acclaimed musical, which tells of a London barber who shaves, then murders, his customers.
Staunton co-stars as Mrs Lovett, a pie-shop proprietor who finds a grisly use for his numerous victims.
Manford's role - played by Sacha Baron Cohen in Tim Burton's 2007 film version - is a relatively small one, featuring in two scenes and a climactic encore.
"I'm dead by half eight," he joked. "If it weren't for that ballad at the end, I could probably get my train home."
'Darker and angrier'
Yet the Salford native still pursued the role because he wanted to do "a proper musical I could get my teeth into".
"You couldn't just put [EastEnders star] Dean Gaffney in the part," he says of the preposterous Pirelli. "I get to sing a proper song.
"But then it changes," he says of his character, who is revealed to have a hidden side. "You've got to be a bit darker and angrier, and more threatening."
Manford's musical debut comes almost two years after his high-profile departure from The One Show in the wake of newspaper revelations about his private life.
The comedian replaced Adrian Chiles as co-host of the BBC One magazine programme in July 2010, only to leave the show the following November.
During his stint as presenter, Manford contentiously criticised the BBC for editing out a joke he made during a televised charity concert at which he performed.
Pointedly perhaps, The One Show does not feature on his list of credits in the Sweeney theatre programme.
Manford denies he had any "game plan" in accepting an engagement so markedly at odds with his previous experience.
"I got the job the same as anyone else really," he shrugs. "I asked for an audition and got one."
Having made the leap into professional theatre, though, the comedian admits he has been bitten by the theatrical bug.
"I've got TV commitments and I start touring next year, but I'd definitely like to do something for longer," he reveals.
Sweeney Todd, originally seen at the Chichester Festival Theatre in West Sussex, continues at the Adelphi until 22 September.
Robert Burt, who is spending July appearing at Glyndebourne, will return to the production at the end of Manford's four-week stint.