US Sherlock drama Elementary to air on Sky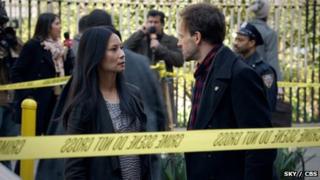 New US Sherlock Holmes drama Elementary will air in the UK on Sky this autumn.
The broadcaster has bought the rights to the series, which stars Jonny Lee Miller in the title role, and Lucy Liu as Dr Joan Watson.
The US reboot follows the success of BBC One's Sherlock, a modern day take on the classic detective story, starring Benedict Cumberbatch.
Elementary, which sees the action relocated from Baker Street to New York, will be shown on Sky Living.
The show casts Holmes, played by Trainspotting star Miller, as a recovering alcoholic who is assigned to live with Dr Watson after leaving rehab.
They eventually become a crime-fighting team tackling some of the NYPD's most difficult cases, combining Holmes' skills of deduction with Watson's medical expertise.
Last year, Miller appeared on stage with BBC Sherlock star Cumberbatch, in the National Theatre's production of Frankenstein.
The Bafta-award winning UK show is due to return for a third series in the future.
Earlier this year, Sherlock writer Steven Moffat told the BBC he was "annoyed" by CBS's show, saying it could "degrade" the Sherlock brand if it was not handled properly.
"It isn't a version of our show," he said. "They've just decided to go off and do one of their own, having been turned down by us to do an adaptation of our version."
Sherlock Holmes has featured in hundreds of books, films and television shows since he was created by Sir Arthur Conan Doyle in 1887.
The detective holds the record as the human literary character most frequently portrayed on screen.
In recent years, Robert Downey Jr has also played the fictional detective, starring in two visceral films directed by Guy Ritchie.
Sky has recently bought the rights for several US shows including Vegas, starring Dennis Quaid as Las Vegas Sheriff Ralph Lamb, tasked with bringing the city to order in the 1960s.
Superhero adaptation Arrow and dark drama The Following were purchased from Warner Bros. The latter will air on Sky Atlantic in early 2013, featuring Kevin Bacon.