Dave Grohl honoured with giant drumsticks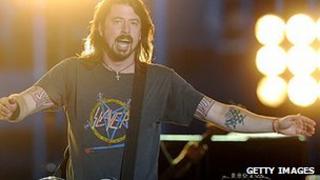 Foo Fighters frontman Dave Grohl is to be honoured by his hometown of Warren, Ohio with a sculpture of two giant drumsticks.
The 900 lb (408 kg) sticks were created out of poplar logs as a tribute to the former Nirvana drummer.
Thought to be the largest in the world, the drumsticks will be on show at the Warren Amphitheatre until September.
They will then be moved to Dave Grohl Alley, a local street dedicated to the musician in 2009.
Joe O'Grady, president of the town's promotional organisation, told the Youngstown Vindicator the drumsticks would be unveiled during a concert at the amphitheatre this Saturday.
He added final touches had made to the sculpture in the last few weeks, including etching feathers etched into the drumsticks to look like the tattoos on Grohl's arms.
Grohl was born in the town of Warren but moved to Alexandria, Virginia, when he was young.
He eventually settled in Seattle to join Nirvana, with whom he performed from 1990 to 1994.