Lamb of God members send support to jailed bandmate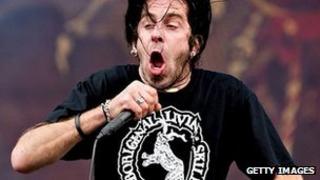 Members of US rock band Lamb of God have spoken of their shock at the arrest and imprisonment of singer Randy Blythe in the Czech Republic.
Mr Blythe was arrested at Prague airport on 27 June over the death of a 19-year-old fan two years ago.
"In the two years since, we were never notified of anything related to this incident," said the band.
"We have reached out and are making use of the resources we have acquired to help our brother."
The singer remains in custody despite posting bail of four million Czech koruna (£126,000).
'Fluid nature'
His arrest and detention relates to an incident in 2010 when he allegedly pushed a fan off the stage.
The teenager hit his head when he fell to the concrete floor and died 14 days later of his injuries.
The band had flown into Prague last week to play a gig, apparently unaware Mr Blythe faced arrest.
A statement from the band said: "We have been keeping our heads down and not speaking out due to the fluid nature of the situation and the constantly changing information that even we receive daily.
"Within an hour things can do endless 180s. It's maddening to try and make heads or tails.
"We're taking the time to speak to you as it has been a significant period of time since this situation began and while nothing is immediately clear to any of us, we are not trying to keep anyone in the dark."
It continued: "The best we can do is to stay positive and continue to support our friend that we know is innocent.
"We know that justice will prevail and we will continue to do our part to support our friend."
Virginia-based Lamb of God, who received Grammy nominations in 2007 and 2011, played at the Download festival at Donington Park in June.