Steve Coogan porn king biopic to be renamed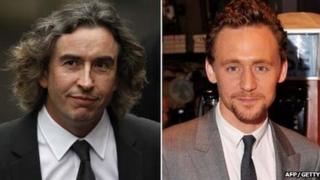 A film starring Steve Coogan as porn baron Paul Raymond will have to change its name, after a legal battle with the late tycoon's family.
Filming has already finished on The King of Soho, directed by Michael Winterbottom.
But the Channel 4-backed biopic has agreed to find a new title after a challenge from Raymond's son, Howard.
Mr Raymond had registered the name for a rival production, which is also the title of his biography of his father.
In the Winterbottom film, Alan Partridge star Coogan plays businessman Raymond who made his fortune from his adult publications and Soho property empire, before his death in 2008.
He famously owned the Raymond Revuebar strip club which featured in the Beatles movie Magical Mystery Tour.
Mr Raymond said he had "never wanted or sought" to stop the other production going ahead, but added he was "pleased that they have had a change of heart and backed down."
"I am delighted that Michael Winterbottom has agreed to change the name of his film," he said. "It was causing a huge amount of confusion in the media that two films were being made about my father under the same title."
Howard Raymond said he had registered The King of Soho as a trademark more than two years ago for his own project, which will star War Horse actor Tom Hiddleston as the porn baron.
The Coogan movie is based on the book Paul Raymond's Wonderful World Of Erotica, and stars Anna Friel as his wife Jean, alongside Imogen Poots and Tamsin Egerton.
Coogan and Winterbottom have previously collaborated on 24 Hour Party People, in which Coogan played Factory Records boss Tony Wilson in 1980s Manchester.
Production company StudioCanal said the Winterbottom film is now in post-production, and they looked forward to announcing the new title "in due course".