The power of Ibsen's women in A Doll's House and Hedda Gabler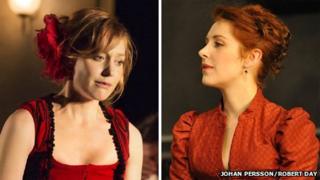 As Sheridan Smith prepares to take on the role of Hedda Gabler, two actresses in Ibsen plays opening this week reflect on the enduring power of his female characters.
"I think I'm a human being before anything else."
So says Nora Helmer in A Doll's House, a play that scandalised audiences when it premiered in 1879 with its take on marriage and motherhood.
More than 100 years after his death, Henrik Ibsen (1828-1906) continues to be one of the world's most performed dramatists.
Last year, there were 166 Ibsen productions around the world , with his masterpiece, A Doll's House, the most performed play.
This week is a bumper one for UK fans of the Norwegian dramatist.
A Doll's House has just opened at the Young Vic, along with Hedda Gabler at the Royal and Derngate in Northampton.
Elsewhere in London, the lesser-known St John's Night gets its UK premiere at the Jermyn Street Theatre.
For Hattie Morahan, her role as Nora in A Doll's House is a chance to revisit a character she first encountered in the classroom.
"Nora is an extraordinary cocktail," says the actress after the play's opening night on Monday.
"We did the play at school. I'd seen a couple of versions, but that was with an 18-year-old's head on - so now I'm coming to it with a bit more life experience."
The wait appears to have been worth it, with The Guardian's critic stating: "This is a bravura performance that elevates Morahan to the front rank of British actors."
The play (this version is by Simon Stephens) is set in Norway in 1878.
Nora's life seems ideal, with three children, an elegant home and an adoring husband, Torvald (Dominic Rowan).
But Nora has taken out a secret loan to help her husband recover from an illness, and when the truth emerges the faultlines in their marriage crack wide open.
"It's a painful portrayal of two people who have fallen into a dishonest dynamic," says Morahan.
"After nine years of marriage they have a crisis, and I think that will always remain very pertinent and uncomfortable for audiences."
What still startles modern audiences is the play's apparently feminist message.
"It was radical for its time," says Morahan. "But the more you get under its skin, you realise how impeccably constructed it is and how its psychology runs so deep."
Morahan has had some advice on how to tackle the role from her mother, Juliet Bravo actress Anna Carteret, who played Nora in the 1980s.
"She told me to enjoy all the different facets of Nora's personality," Morahan says. "And honour the fact that she's mercurial and is capable of being 10 different things to 10 different people."
'Magnificently real'
Another of Ibsen's protagonists - Hedda Gabler - is often cited as one of the greatest female dramatic roles in theatre.
Sheridan Smith will play Hedda at the Old Vic in September in an adaptation by Brian Friel.
While the Olivier award-winning actress begins her preparations, a new version of Hedda Gabler opened in Northampton this week, with Emma Hamilton in the title role.
The play, which premiered in 1891, sees the newly married Hedda stifled by the reality of her new life in a comfortable home with a husband she does not love.
"She's a character that doesn't quite understand herself," says Hamilton.
"Ibsen's written a magnificently real woman. She's a three-dimensional, living, breathing, passionate, intelligent, hungry, driven woman.
"Trying to get inside her and bring her to life - that's the challenge."
Hamilton feels the play remains "incredibly relevant" because of the expectations that Hedda faces as a married woman.
"The rules are very different even today for women than they are for men, in terms of what constitutes acceptable behaviour."
Hamilton first came across Hedda Gabler when she was a teenager and saw Eve Best's celebrated portrayal at London's Almeida Theatre in 2005.
"The thing about Hedda is that even if you see another production, it's not something that can inform your performance too much because it's such a personal exploration.
"If you're being truthful and building character from within, then you're always going to end up with a fairly unique woman at the end of it."
The current popularity of Ibsen in the UK is not in doubt.
The UK premiere of early Ibsen work St John's Night in London this week follows last year's Emperor and Galilean at the National Theatre.
That play was being staged for the first time in the UK, with Sherlock star Andrew Scott among a cast of 50.
There is more Ibsen on offer too, with another version of A Doll's House running at Keswick's Theatre by the Lake until November.
And Scottish Opera's The Lady from the Sea has its world premiere at the Edinburgh International Festival in August.
A Doll's House is at the Young Vic, London until 28 July. Hedda Gabler is at the Royal and Derngate Theatre, Northampton until 28 July.
Hedda Gabler, with Sheridan Smith, will open at the Old Vic on 12 September, with previews from 5 September.