Spider-Man reboot swings to top of US box office chart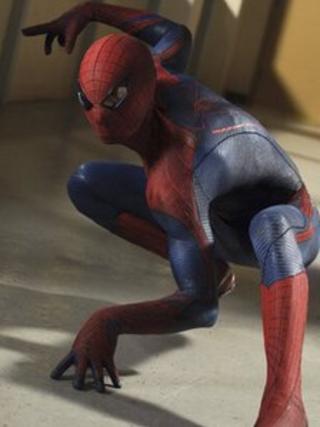 The Amazing Spider-Man has spun its way to the top of the US box office chart, taking $65m (£42m) in its opening weekend.
The reboot of the comic book series, which opened last Tuesday, has now taken $140m (£90m) domestically in its first six days.
The new origin film stars British actor Andrew Garfield as the superhero and Emma Stone as love interest Gwen Stacy.
It comes five years after Spider-Man 3, starring Tobey Maguire in the lead.
Distributor Sony said the latest film has generated $341.2m overall, including worldwide box office receipts.
"This was never modelled or was never meant to be Spider-Man 4," said Rory Bruer, Sony's head of distribution.
"This was always a relaunch with a new cast and different stories to tell, and quite frankly, it succeeded beyond our imaginations."
Last week's number one film Ted - about a man and his foul-mouthed talking teddy bear - slipped to number two taking $32.6m (£21m).
Pixar's Brave remained at three, bringing its US total to $174.5m (£112.6m).
Oliver Stone's drug-war thriller Savages was the highest new entry at four. With an ensemble cast featuring Salma Hayek, John Travolta and Benicio Del Toro, the film tells the story of two friends who face off with members of a Mexican drug cartel.
Male stripper movie Magic Mike, starring Channing Tatum and Matthew McConaughey, fell three places to five.
The other nationwide release, pop star Katy Perry's behind-the-scenes film Part of Me, was at eight with $7.1m (£4.6m). After opening on Thursday, it has taken $10.3m (£6.6m).
However the figure is considerably lower than other recent concert movies - 2008's Hannah Montana & Miley Cyrus: Best of Both Worlds Concert, opened with $31.1m (£20m), while last year's Justin Bieber: Never Say Never, debuted with $29.5m (£19m).
Meanwhile, Disney has become the first film studio this year to reach $1bn (£645m) in domestic grosses, according to Variety .
The success has been due to the release of blockbuster The Avengers - which has taken $611.1m (£394.6m) alone - Pixar's Brave and film flop John Carter.