Noel Edmonds eyes BBC prime-time return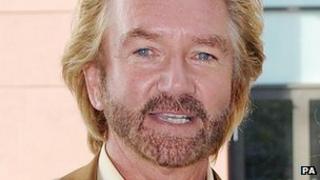 Noel Edmonds could return to BBC One with a prime-time Saturday night show for the first time in 13 years.
The Deal or No Deal host is fronting a pilot, titled The Bodyguard, which could replace the axed Total Wipeout.
Produced by Endemol, the show sees members of the public team up with their favourite celebrities to be crowned "The Ultimate Bodyguard".
If commissioned, it will be Edmonds' first series for the BBC since Noel's House Party ended in 1999.
The pilot is being filmed at Elstree Studios later this month. Both the BBC and Endemol stressed it would not be broadcast.
Edmonds, 63, began his career at the BBC in the 1970s hosting shows including Top of the Pops, Telly Addicts and Noel's Saturday Roadshow.
However, he largely disappeared from mainstream TV after the BBC cancelled Noel's House Party.
He returned in 2006 for one-off National Lottery special show Everyone's A Winner!, but The Bodyguard would be the presenter's first regular series for the broadcaster in over a decade.